ECB – One and done
The ECB is likely to deliver the last hike of its cycle on the 14th of September meeting. Recent data came soft, and disinflation dynamics continue to be robust. Consequently, the ECB's recent statements have taken on a more dovish tone compared to earlier in the summer. As a result, the market is now split, with half of Bloomberg survey participants expecting to maintain the deposit rate at 3.75%.
We see the meeting as a close call but find a hike more likely given previous guidance. September meetings bring new staff forecasts, which are likely to be dovish. In June, the central bank expected an acceleration of growth to 1.5% already in 3Q. Following the poor data over summer, the best scenario is stagnation for the year, with German growth in negative territory. On the other hand, inflation forecasts should move lower in 2024/25 (currently at 3% and 2.2%), although there are some upside risks to 2023 inflation projections due to elevated oil prices. Overall, the hike should be accompanied by more accommodative forecasts and rhetoric, which could support rates.
US inflation – Oil up but core down
US CPI inflation for August will be out on Wednesday. Higher commodity prices will push the m/m print to 0.5% up from 0.2% in July, but y/y should remain moderate at 3.6%. Core inflation should continue to moderate to 0.2% m/m and 4.3% y/y, driven by services and housing disinflation. Current dynamics suggest that core inflation will be at 3-handle in late 2023, allowing the Fed to skip both September and November hikes and thus conclude its cycle. Nevertheless, potential upside risks stem from fluctuating commodity prices and a relatively strong US economy.
Market – Mind hard landing scares
Markets remain volatile as strong supply in fixed income markets hurt Treasuries in early September, leading to a wider and steeper US curve. US rates are close to October highs despite lower growth and lower inflation. 5y US real rates are north of 200bp, the highest in fifteen years. In our view, the risk that markets are underpricing is the one of a hard landing. US rates continue to push out the pricing of cuts, and the European curve does not have any for the next 12 months. Equity markets are at highs, including more cyclical sectors like industrials and banks. High yield credit spreads are tights. Macro data since summer have been deteriorating fast and are now at levels consistent with a recession in Europe and China within the next year. In the US, data point to a moderate expansion but are cooling down, including labor market data. High commodity prices add to the risks as mostly supply driven. In our view, a re-pricing of recession risk remains the key danger for markets in the near term. We prefer duration to high yield and fixed income and credit over equity during this phase.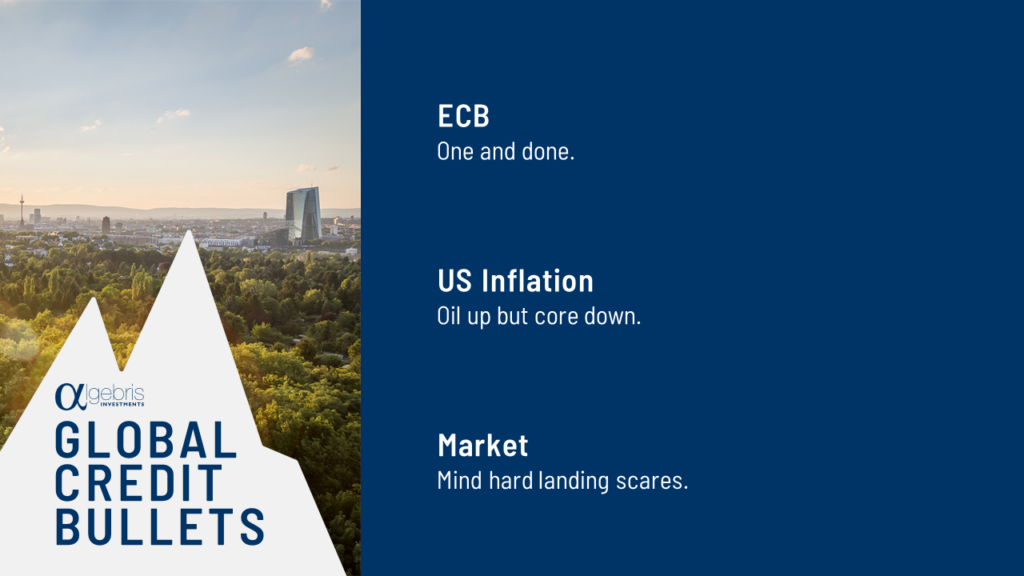 ---
Algebris Investments' Global Credit Team
This document is issued by Algebris (UK) Limited. The information contained herein may not be reproduced, distributed or published by any recipient for any purpose without the prior written consent of Algebris (UK) Limited.
Algebris (UK) Limited is authorised and Regulated in the UK by the Financial Conduct Authority. The information and opinions contained in this document are for background purposes only, do not purport to be full or complete and do not constitute investment advice. Under no circumstances should any part of this document be construed as an offering or solicitation of any offer of any fund managed by Algebris (UK) Limited. Any investment in the products referred to in this document should only be made on the basis of the relevant prospectus. This information does not constitute Investment Research, nor a Research Recommendation. Algebris (UK) Limited is not hereby arranging or agreeing to arrange any transaction in any investment whatsoever or otherwise undertaking any activity requiring authorisation under the Financial Services and Markets Act 2000.
No reliance may be placed for any purpose on the information and opinions contained in this document or their accuracy or completeness. No representation, warranty or undertaking, express or implied, is given as to the accuracy or completeness of the information or opinions contained in this document by any of Algebris (UK) Limited , its members, employees or affiliates and no liability is accepted by such persons for the accuracy or completeness of any such information or opinions.
The distribution of this document may be restricted in certain jurisdictions. The above information is for general guidance only, and it is the responsibility of any person or persons in possession of this document to inform themselves of, and to observe, all applicable laws and regulations of any relevant jurisdiction. This document is for private circulation to professional investors only.
© 2023 Algebris (UK) Limited. All Rights Reserved. 4th Floor, 1 St James's Market, SW1Y 4AH.