ECB – The Lady's not tapering.
The ECB September meeting brought about a quite dovish message. Lagarde signalled some reduction in PEPP purchases starting in Sept, likely in the order of EUR10-20bn a month, leaving the total in the 60-70bn range. Still, the commentary around the decision remained very accommodative. Lagarde refused to call it "tapering", preferring the softer "calibration" labelling. Also, she avoided committing to ending the program in March 2022, postponing the decision to December, and leaving open the possibility of a program extension, albeit at a more moderate pace. Finally, growth and inflation forecasts show a marked uptick for 2021 but remain almost flat for 2022-23, suggesting little inflation concerns and unchanged guidance for rate hikes. Rates markets relieved post meeting, with Italy and Greece tightening almost 10bp. Market thus priced out any immediate reaction to recent inflation upside, and welcomed another postponement of the reduction in QE (and the political discussion it brings). With the Fed closer to tapering, we think it will be hard for the ECB not to follow, even if more cautiously. The December meeting may thus bring hawkish surprises to investors if market pricing remains here.
Inflation – Mind commodities.
Commodity prices remain strong and drive another uptick in global inflation. In China, August PPI surprised on the upside and now hovers around 9.5%, the 10y high. High producer prices in China often translate in higher US consumer prices, suggesting some potential upside for next week CPI print. On Tuesday, the CPI print should remain well above 5%, bring the 6m average well above 4%, vis-à-vis the 2% target. While the Fed is unlikely to react immediately to the print post the dovish turn at Jackson Hole, markets are likely to start imposing some pressure on the long end. The US curve steepened last week post strong wages numbers and despite weak jobs, suggesting the market is starting focusing more on inflation than on Fed guidance, to some extent. Over the weekend, press suggested more discussion of a potential November taper announcement. Inflation pressures remain strong in emerging markets too. This week Brazilian inflation reached new highs (above 9%), while Peru and Russia hiked rates to continue fighting price increases. We maintain the view that US inflation makes no difference and the Fed will be forced to react sooner than market expects.
China markets – PBOC to the rescue?
Volatility in China markets persist. This week, Evergrande was authorized by regulators to carry over an orderly restructuring of its debt. Bonds are now trading below 30c, and likely well below recovery values. The volatility is extending to the whole sector, with several names trading at distressed levels despite a better liquidity picture. The picture is similar outside the real estate sector. As discussed in our Silver Bullet and our recent Investor Webinar, China is trying to go down a different way. Inequality is tackled via micro (and more effective policies) instead of the "one-size-fits-all" monetary stimulus adopted in Western countries. Still, we think there's a limit to the pain the government can impose on markets. A systemic crisis that hits all investors may strongly affect capital flows, and it's thus undesirable for a very open economy like China. The ultimate solution, we think, will be found with more fiscal and monetary easing. Targeted liquidity measures will help ease pressure on the sector and calm markets at the same time. Over summer, the PBOC has cut the required reserve requirement on domestic banks once and increased the lending quota to the property sector. The key question is when easing take place. As many painful lines have been crossed for investors, we think sooner easing is more likely than later. In the property sector for example, contracted sales have peaked and housing prices may be close to a top. An intervention is thus more urgent than in the past three months, and we think easing may take place in the next 3-6 months.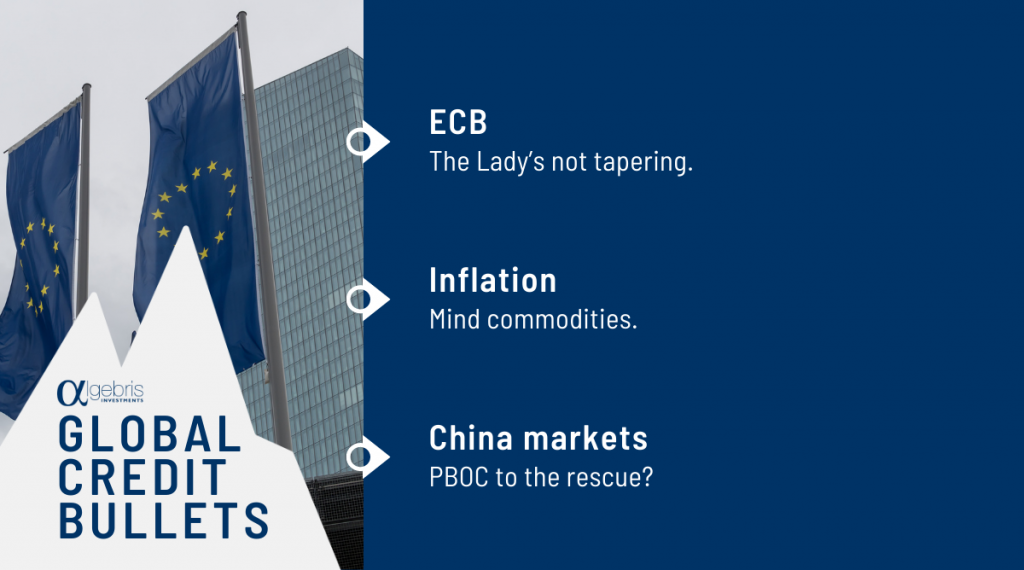 To read more on our latest views, please see our Silver Bullet | China's Long Term Game or visit our Insights section.
This document is issued by Algebris (UK) Limited. The information contained herein may not be reproduced, distributed or published by any recipient for any purpose without the prior written consent of Algebris (UK) Limited.
Algebris (UK) Limited is authorised and Regulated in the UK by the Financial Conduct Authority. The information and opinions contained in this document are for background purposes only, do not purport to be full or complete and do not constitute investment advice. Under no circumstances should any part of this document be construed as an offering or solicitation of any offer of any fund managed by Algebris (UK) Limited. Any investment in the products referred to in this document should only be made on the basis of the relevant prospectus. This information does not constitute Investment Research, nor a Research Recommendation. Algebris (UK) Limited is not hereby arranging or agreeing to arrange any transaction in any investment whatsoever or otherwise undertaking any activity requiring authorisation under the Financial Services and Markets Act 2000.
No reliance may be placed for any purpose on the information and opinions contained in this document or their accuracy or completeness. No representation, warranty or undertaking, express or implied, is given as to the accuracy or completeness of the information or opinions contained in this document by any of Algebris (UK) Limited , its members, employees or affiliates and no liability is accepted by such persons for the accuracy or completeness of any such information or opinions.
The distribution of this document may be restricted in certain jurisdictions. The above information is for general guidance only, and it is the responsibility of any person or persons in possession of this document to inform themselves of, and to observe, all applicable laws and regulations of any relevant jurisdiction. This document is for private circulation to professional investors only.
© 2021 Algebris (UK) Limited. All Rights Reserved. 4th Floor, 1 St James's Market, SW1Y 4AH.