Macro data – Mixed signals
Economic data in April continue to give mixed signals, with manufacturing cooling quickly in US and Europe but services holding up ok. In the US, the Philadelphia Fed manufacturing indicator for April pointed to a contraction in the sector, registering the lowest reading since Covid. S&P PMIs gave a slightly better picture, with an overall expansionary print. In Europe, April PMIs reveal a strong service sector but lagging manufacturing. Overall levels for the indicator remain around 54, a moderately expansionary level. Both in US and Europe, input and producer prices remain on the back foot for the second month in a row. Overall, the picture that is emerging in April is one of economic slowdown and softer inflation, but no recession. As a result, we think the Fed and ECB will be able to deliver the last few hikes promised to markets, but no more. We see terminal rates of 5% and 3.5% as likely, with a protracted hold (and not cuts) likely following.
Central banks – BoJ opens the dances
The Bank of Japan will meet on Thursday, in the first meeting under the new Governor, Kazuo Ueda. We don't expect any policy change at the meeting. Earlier in April, Mr Ueda reported to the Japanese Congress in his first speech in the new role. The tone was dovish, downplayed wage-induced inflationary pressures and pointed to policy continuity. The tone makes the abrupt policy change some market participants feared unlikely. However, a gradual tweak to yield curve control is likely over the month, especially as the target levels is now well out of market context. We think a gradual exit will help the yen over the next few months, while we see limited opportunities in rates, as levels price in an exit from the policy already. The BoJ will open an important week for central banks, with the Fed and ECB meetings coming up, respectively on May 3rd and 4th.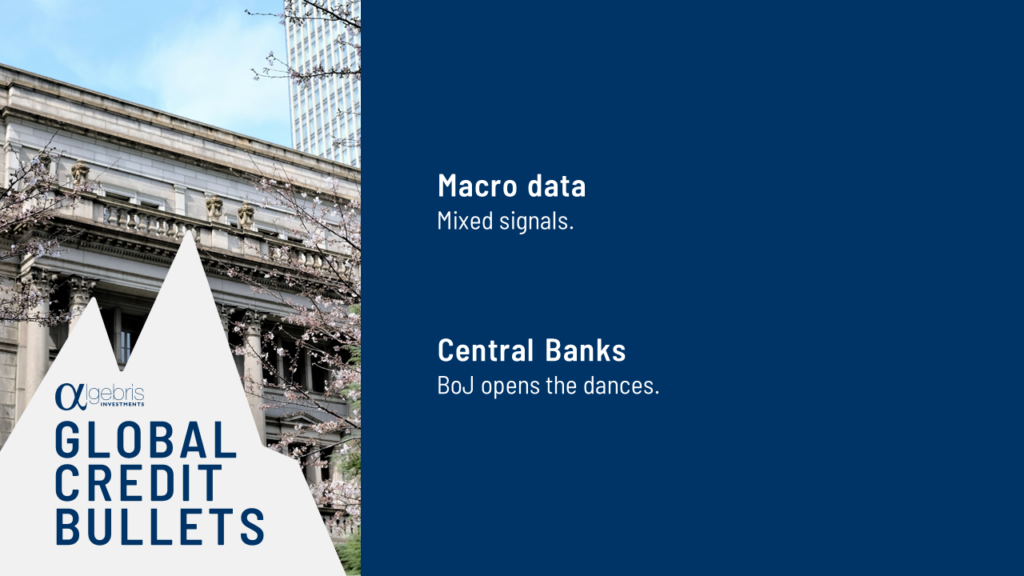 ---
Algebris Investments' Global Credit Team
This document is issued by Algebris (UK) Limited. The information contained herein may not be reproduced, distributed or published by any recipient for any purpose without the prior written consent of Algebris (UK) Limited.
Algebris (UK) Limited is authorised and Regulated in the UK by the Financial Conduct Authority. The information and opinions contained in this document are for background purposes only, do not purport to be full or complete and do not constitute investment advice. Under no circumstances should any part of this document be construed as an offering or solicitation of any offer of any fund managed by Algebris (UK) Limited. Any investment in the products referred to in this document should only be made on the basis of the relevant prospectus. This information does not constitute Investment Research, nor a Research Recommendation. Algebris (UK) Limited is not hereby arranging or agreeing to arrange any transaction in any investment whatsoever or otherwise undertaking any activity requiring authorisation under the Financial Services and Markets Act 2000.
No reliance may be placed for any purpose on the information and opinions contained in this document or their accuracy or completeness. No representation, warranty or undertaking, express or implied, is given as to the accuracy or completeness of the information or opinions contained in this document by any of Algebris (UK) Limited , its members, employees or affiliates and no liability is accepted by such persons for the accuracy or completeness of any such information or opinions.
The distribution of this document may be restricted in certain jurisdictions. The above information is for general guidance only, and it is the responsibility of any person or persons in possession of this document to inform themselves of, and to observe, all applicable laws and regulations of any relevant jurisdiction. This document is for private circulation to professional investors only.
© 2023 Algebris (UK) Limited. All Rights Reserved. 4th Floor, 1 St James's Market, SW1Y 4AH.