ECB – Another 75bp hike
We expect a second consecutive 75bp deposit rate hike at this week's ECB meeting given further upside surprises in inflation, resilient hard growth indicators through the summer and hawkish commentary on the near-term policy outlook.
The Governing Council looks set to retain its meeting-by-meeting approach and President Lagarde is unlikely to provide much additional colour on the terminal rate but might put more emphasis on the role of financing conditions in calibrating the extent of further policy adjustment. While we expect no decisions yet on quantitative tightening, the press conference might reveal more colour on the potential timeline.
Recent ECB commentary suggests that several Council members prefer to step down the pace of hiking at the end of the year, as the deposit rate moves into neutral territory, the economy starts to contract, and the Fed is expected to slow the pace of tightening. Market will focus on any commentary regarding the start of quantitative tightening, but we think it will be unlikely at this meeting.
UK – Another round at 10 Downing Street
Last Thursday, Liz Truss resigned as Prime Minister after only six weeks in power. Whilst this was largely expected, her resignation came earlier than many had expected. In the coming days, the Conservative Party will run an expedited leadership challenge process to appoint the next PM. After a long political discussion over the weekend, former PM Boris Johnson decided to pull off the race. As a result, former chancellor Rishi Sunak is now a leader in the race, which will likely conclude later this week.
A Sunak premiership would carry a positive signal to markets. The former chancellor is close to budget numbers and is considered fiscally cautious. He has vouched for a more conservative approach to the budget but is also generally pro-business. Of course, delivery will also be important, so the market needs to see continuity in the recent tighter budget choices. In this respect, leaving current chancellor Jeremy Hunt in his position would be very relevant for market stability. The mid-term budget is scheduled for October 31st, just four days after the new leadership is appointed, leaving little room for big changes. The BOE meeting on November 3rd can't be rescheduled, suggesting little scope to move the budget even by a few days.
Italy – New government in place
Over the weekend, a government was formed in Italy after the landslide victory registered by the right-wing coalition in the recent elections.
The Minister of Finance will be Giancarlo Giorgetti, member of Salvini's Lega Nord. Mr Giorgetti is well-known internationally and belongs to the moderate wing of the party. He is known for broadly conservative positions, especially on the budget, and he is relatively pro-business. As a result, his appointment is market friendly. Consistency on the previous government message on EU funds and energy policy will be the first points on markets radar.
The remaining cabinets are less relevant for markets but are made of relatively high standing politicians or leaders of the various parties. We think overall the new ruling coalition is making good steps towards a credible, pro-market approach. The 2023 budget and execution of any energy policy will be key to watch next.
China – Tighter control
The 20th Party Congress came to an end over the weekend, with Xi Jinping emerging from the party congress with a history-making third five-year term. By introducing a new Politburo Standing Committee and placing political allies in key positions, Xi Jinping is widely expected to tighten his hold over the party.
Hu Jintao, former president, was ushered from the conference allegedly due to health concerns, and overall, four of the seven member of the Politburo standing committee have been replaced with the places filled by officials with close ties to Xi, suggesting the previous administration is very much over. Xi's close allies will oversee all of China's top institutions, giving him even more control in his third term than in his first 10 years.
Overall, the 20th party congress report implies a continuation in more assertive and active foreign policies and places strong focus on national security.
Chinese markets did not take this well with the Hang Seng and Hang Seng China Enterprises Index trading early on Monday morning at -6.3% and -7.2%, respectively. The offshore yuan fell to its weakest since January 2008.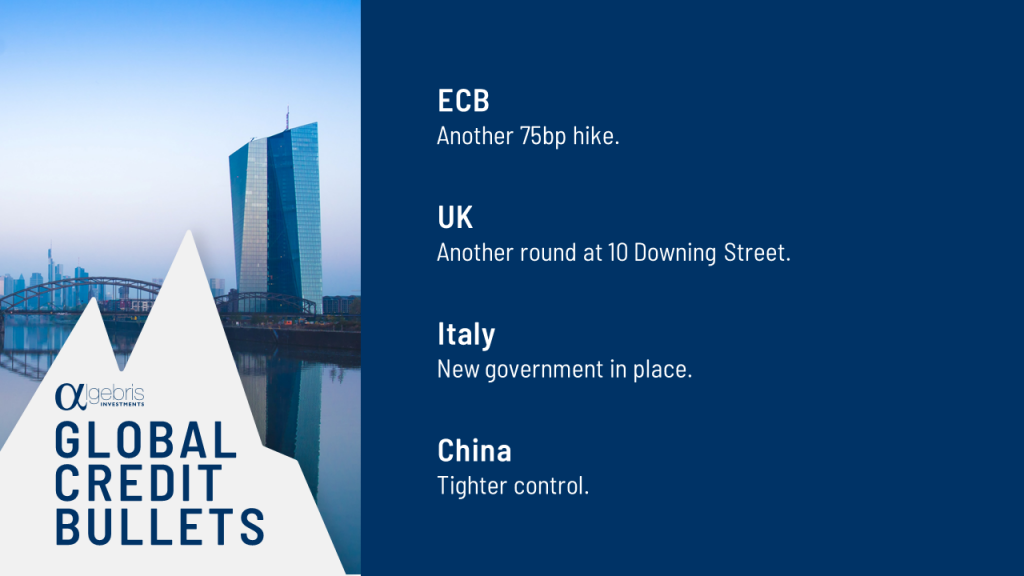 ---
Algebris Investments' Global Credit Team
This document is issued by Algebris (UK) Limited. The information contained herein may not be reproduced, distributed or published by any recipient for any purpose without the prior written consent of Algebris (UK) Limited.
Algebris (UK) Limited is authorised and Regulated in the UK by the Financial Conduct Authority. The information and opinions contained in this document are for background purposes only, do not purport to be full or complete and do not constitute investment advice. Under no circumstances should any part of this document be construed as an offering or solicitation of any offer of any fund managed by Algebris (UK) Limited. Any investment in the products referred to in this document should only be made on the basis of the relevant prospectus. This information does not constitute Investment Research, nor a Research Recommendation. Algebris (UK) Limited is not hereby arranging or agreeing to arrange any transaction in any investment whatsoever or otherwise undertaking any activity requiring authorisation under the Financial Services and Markets Act 2000.
No reliance may be placed for any purpose on the information and opinions contained in this document or their accuracy or completeness. No representation, warranty or undertaking, express or implied, is given as to the accuracy or completeness of the information or opinions contained in this document by any of Algebris (UK) Limited , its members, employees or affiliates and no liability is accepted by such persons for the accuracy or completeness of any such information or opinions.
The distribution of this document may be restricted in certain jurisdictions. The above information is for general guidance only, and it is the responsibility of any person or persons in possession of this document to inform themselves of, and to observe, all applicable laws and regulations of any relevant jurisdiction. This document is for private circulation to professional investors only.
© 2022 Algebris (UK) Limited. All Rights Reserved. 4th Floor, 1 St James's Market, SW1Y 4AH.