Ukraine – Next escalation step ahead with spring offensive
It has been one year since Russia invaded Ukraine, and an end is not in sight: Russia continues to show no signs of backing down, with Putin vowing to continue the war and abandoning the New START nuclear proliferation treaty in his state of the union speech last week.
Privately, Zelensky said he expects the war to last at least another year, but that it could also last up to another three. While the Biden Administration has reaffirmed its support for Ukraine, privately there are concerns about the political viability of indefinite support ahead of the 2024 Presidential elections.
The Economist reported that Ukraine is currently firing as many shells in one month, as America can produce in a whole year. The US is eyeing a resolution to the conflict by late 2023 to prevent it from negatively impacting the re-election campaign, and at the same time hopes to avoid a large-scale escalation.
Europe was lucky in defying a deep recession amid falling energy prices and high levels of gas storage throughout the mild winter, but markets have become complacent about the war, showing barely any reaction to the treaty exit by Russia. Nato warns that Russia's spring offensive has likely already started, and it will probably be run differently than before – including air support for attacks from multiple border points.
PMIs – Improving outlook means central banks can tighten further
Last week's PMIs in the US, UK and Eurozone saw upgrades across the board, led by services in expansionary territory above 50, and manufacturing improving in the US and UK too.
In Europe, this was particularly helped by the fall in energy prices, where gas prices are now trading at levels last seen before Russia's invasion in Ukraine. Labour shortages and wage pressures were still cited as reasons why price expectations remain elevated, but the easing of supply chains was noted as a positive contributor for the hard-hit manufacturing sector. The improving sentiment continues to defy "hard-landing" concerns in the US for now, but in turn this means central banks will have more room to tighten policy by hiking rates. Especially European risk assets have enjoyed a good run year to date, with EuroStoxx 50 +12% and iTraxx Xover -60bp tighter, hence we view risk markets with caution.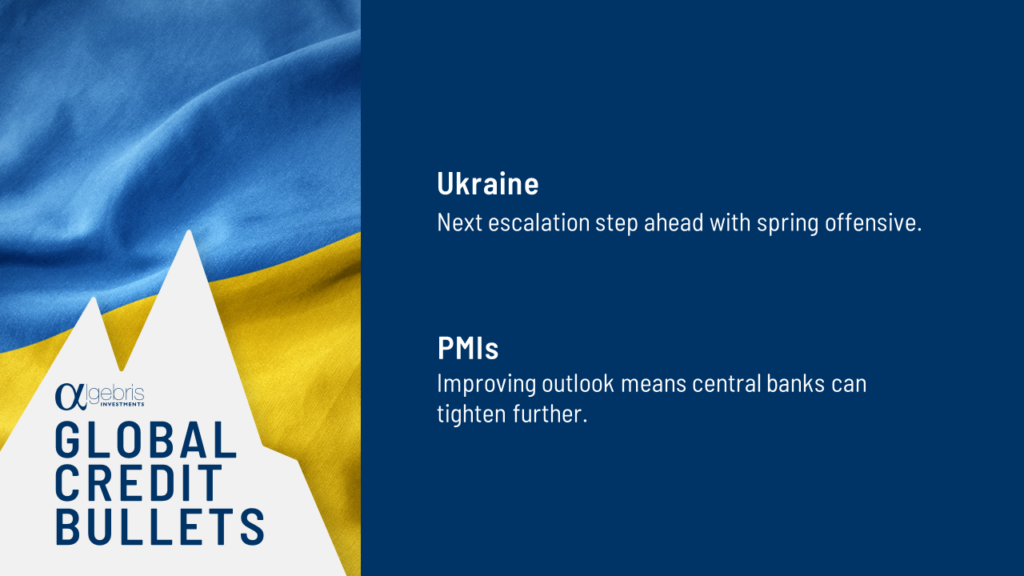 ---
Algebris Investments' Global Credit Team
This document is issued by Algebris (UK) Limited. The information contained herein may not be reproduced, distributed or published by any recipient for any purpose without the prior written consent of Algebris (UK) Limited.
Algebris (UK) Limited is authorised and Regulated in the UK by the Financial Conduct Authority. The information and opinions contained in this document are for background purposes only, do not purport to be full or complete and do not constitute investment advice. Under no circumstances should any part of this document be construed as an offering or solicitation of any offer of any fund managed by Algebris (UK) Limited. Any investment in the products referred to in this document should only be made on the basis of the relevant prospectus. This information does not constitute Investment Research, nor a Research Recommendation. Algebris (UK) Limited is not hereby arranging or agreeing to arrange any transaction in any investment whatsoever or otherwise undertaking any activity requiring authorisation under the Financial Services and Markets Act 2000.
No reliance may be placed for any purpose on the information and opinions contained in this document or their accuracy or completeness. No representation, warranty or undertaking, express or implied, is given as to the accuracy or completeness of the information or opinions contained in this document by any of Algebris (UK) Limited , its members, employees or affiliates and no liability is accepted by such persons for the accuracy or completeness of any such information or opinions.
The distribution of this document may be restricted in certain jurisdictions. The above information is for general guidance only, and it is the responsibility of any person or persons in possession of this document to inform themselves of, and to observe, all applicable laws and regulations of any relevant jurisdiction. This document is for private circulation to professional investors only.
© 2023 Algebris (UK) Limited. All Rights Reserved. 4th Floor, 1 St James's Market, SW1Y 4AH.