US debt ceiling – Deal in reach
Over the weekend, Republican leadership found an agreement in principle with the Democratic administration to increase the US debt ceiling. Under the deal, Republicans allow for an increase which postpones any new issue to 2025, vis-à-vis a domestic spending freeze and moderate growth in military spending over the next two years. The deal will be voted in the House and the Senate on Wednesday. The agreement will help markets relieve, though a solution was arguably 80% priced by last Friday. Markets will move on to focus on the upcoming Federal Reserve decision. Rates price a 50% chance of a hike, while recent soft inflation data are more supportive of a hold. Labour market data on Friday will offer more clues about the direction of travel. Consensus currently expect softening data, but still expansionary levels.
UK – Strong inflation brings UK bonds to their knees
UK government debt sold off strongly this week, amid another consecutive inflation surprise to the upside: Headline CPI fell to 8.7%, above consensus forecasts of 8.2% and the BoE forecast of 8.4%. 2y yields rose 60bp over the past 5 days, and markets now estimate the BoE terminal rate at 5.6%, 1.1% above the current bank rate. We think the price action has been exacerbated by stop-outs and systematic selling and think UK yields are too high both in absolute terms and relative to global curves.
Turkey – No time for a change
The second round of Presidential elections in Turkey sees a victory of the incumbent President, Mr Erdogan. The outcome was expected after his strong performance in the first round on May 14th. The results will likely lead to a continuation of the macroeconomic policies that characterised the past two years. Monetary policy will remain easy despite high levels of inflation (real rates are currently -40%), and the focus on stimulating the economy will trump financial stability. The country's central bank has a negative financial position, as hard currency reserves stand below the stock of dollars borrowed by local banks. Ongoing imbalances reached extreme levels and are likely to increase further in absence of policy change.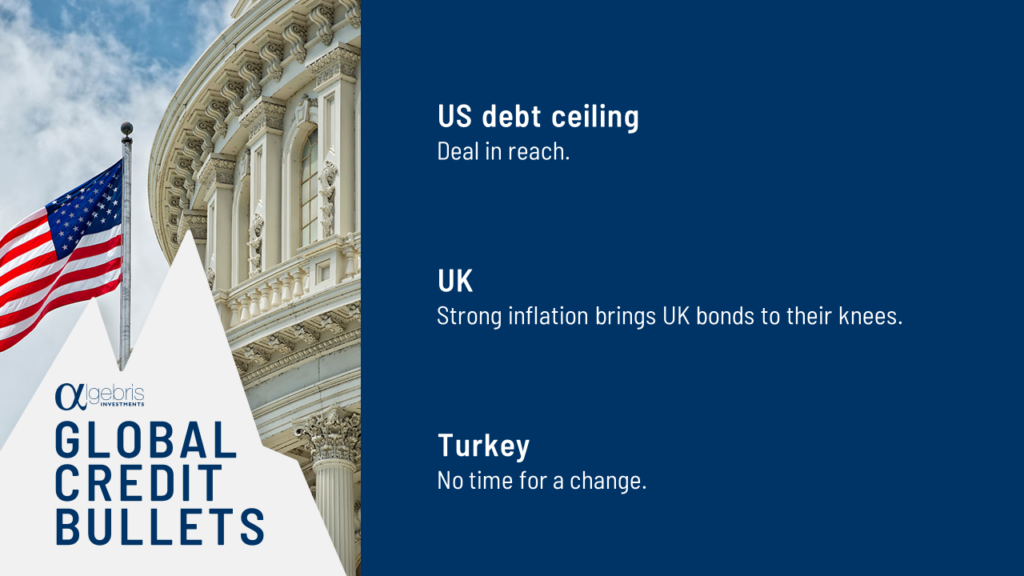 ---
Algebris Investments' Global Credit Team
This document is issued by Algebris (UK) Limited. The information contained herein may not be reproduced, distributed or published by any recipient for any purpose without the prior written consent of Algebris (UK) Limited.
Algebris (UK) Limited is authorised and Regulated in the UK by the Financial Conduct Authority. The information and opinions contained in this document are for background purposes only, do not purport to be full or complete and do not constitute investment advice. Under no circumstances should any part of this document be construed as an offering or solicitation of any offer of any fund managed by Algebris (UK) Limited. Any investment in the products referred to in this document should only be made on the basis of the relevant prospectus. This information does not constitute Investment Research, nor a Research Recommendation. Algebris (UK) Limited is not hereby arranging or agreeing to arrange any transaction in any investment whatsoever or otherwise undertaking any activity requiring authorisation under the Financial Services and Markets Act 2000.
No reliance may be placed for any purpose on the information and opinions contained in this document or their accuracy or completeness. No representation, warranty or undertaking, express or implied, is given as to the accuracy or completeness of the information or opinions contained in this document by any of Algebris (UK) Limited , its members, employees or affiliates and no liability is accepted by such persons for the accuracy or completeness of any such information or opinions.
The distribution of this document may be restricted in certain jurisdictions. The above information is for general guidance only, and it is the responsibility of any person or persons in possession of this document to inform themselves of, and to observe, all applicable laws and regulations of any relevant jurisdiction. This document is for private circulation to professional investors only.
© 2023 Algebris (UK) Limited. All Rights Reserved. 4th Floor, 1 St James's Market, SW1Y 4AH.