Europe – Rates to Rise Further.
Inflation data last week in Europe remained strong, strengthening the case for policy normalization. Germany month-on-month (mom) CPI inflation for March was at 2.5%, with France mom inflation at 1.6%, both higher than market expectations. The higher-than-expected inflation print was partly due to higher energy prices. This energy impact may also affect other global inflation prints, like the US CPI print on the 12th April. The week prior, European economic data (PMIs) had also been stronger than expected, albeit weaker than previous months. This weekend, ECB governing council member Schnabel said the data supports policy normalization, calling for an interest rate hike after winding down bond purchases in Q3. Schnabel said that while the war increases uncertainty and downside risks to growth, a "considerable" part of inflation may be persistent due to structural changes and wage catch-up.
Bank of Japan – The dovish elephant in the room.
The BoJ boosted bond purchases last week as part of its yield curve control policy, to defend their 10Y target and keep yields below the +0.25% limit. The policy had been introduced in 2016 to anchor rates for the economy, but is now under severe pressure as inflation is rising globally and G10-peers are hiking rates fast.
Unlimited purchases by the BoJ are causing the JPY to weaken considerably, -6% versus the USD to date already and close to USDJPY 125 last week, and appear unsustainable if bond selling pressures in the market persist. Central bank governor Kuroda is committed to YCC, and argues in favour of a weaker Yen to support the economy. A too weak Yen however, will ultimately erode support for the government and cause the Ministry of Finance to intervene, which in our view could happen around USDJPY 130. Absent of a strong risk-off shock, either the yield-curve target or the Yen must give, as both in tandem can no longer be maintained in light of higher inflation and yields globally.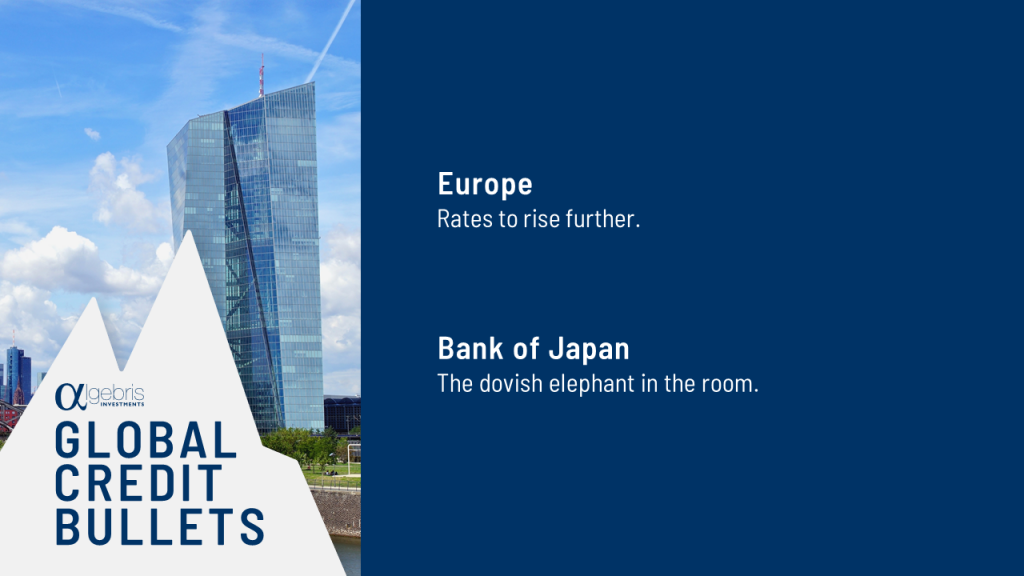 ---
Algebris Investments' Global Credit Team
This document is issued by Algebris (UK) Limited. The information contained herein may not be reproduced, distributed or published by any recipient for any purpose without the prior written consent of Algebris (UK) Limited.
Algebris (UK) Limited is authorised and Regulated in the UK by the Financial Conduct Authority. The information and opinions contained in this document are for background purposes only, do not purport to be full or complete and do not constitute investment advice. Under no circumstances should any part of this document be construed as an offering or solicitation of any offer of any fund managed by Algebris (UK) Limited. Any investment in the products referred to in this document should only be made on the basis of the relevant prospectus. This information does not constitute Investment Research, nor a Research Recommendation. Algebris (UK) Limited is not hereby arranging or agreeing to arrange any transaction in any investment whatsoever or otherwise undertaking any activity requiring authorisation under the Financial Services and Markets Act 2000.
No reliance may be placed for any purpose on the information and opinions contained in this document or their accuracy or completeness. No representation, warranty or undertaking, express or implied, is given as to the accuracy or completeness of the information or opinions contained in this document by any of Algebris (UK) Limited , its members, employees or affiliates and no liability is accepted by such persons for the accuracy or completeness of any such information or opinions.
The distribution of this document may be restricted in certain jurisdictions. The above information is for general guidance only, and it is the responsibility of any person or persons in possession of this document to inform themselves of, and to observe, all applicable laws and regulations of any relevant jurisdiction. This document is for private circulation to professional investors only.
© 2022 Algebris (UK) Limited. All Rights Reserved. 4th Floor, 1 St James's Market, SW1Y 4AH.