US Regional Banks – More volatility
US regional banks remain under pressure. Post First Republic resolution, other (smaller) names in the region came under scrutiny. Volatility on the segment remains high, despite some of the names shows no signs of deposit outflows and a relatively healthy balance sheet. Unusual price action makes the local situation unstable, as the reaction of deposits to stock prices remains unclear.
Fed emergency lending fell sharply after First Republic's shut down, but borrowing through the Bank Term Funding Program (BTFP) remains elevated.
Fed – Time for a pause
The Fed likely delivered their last hike of 25bp to 5-5.25% and moved to fully data dependent stance while leaving a hawkish backdoor. Without the banking stress, Friday's labour market data would argue for more hikes: Payrolls rose by 253k vs 185k survey and average hourly earnings rose 0.5% on the month.
We focus on inflation this week, for which consensus expects 5% YoY on headline, and 5.4% on core. Overall, we think the Fed job on hikes is done, but pricing cuts (as the market is doing) is premature.
ECB Review – Almost there
The ECB hiked rates by 25bp to 3.25% as expected and offered a hawkish compromise by announcing the full runoff of APP holdings from July onwards. The statement noted a "forceful" transmission of existing monetary policy, but maintained the option to raise rates further to "sufficiently restrictive" levels.
Given the tightening Bank Lending Survey, we believe the ECB is not done, but almost. We see high chances of another 1-2 hikes in summer, but we think the central bank will stop before reaching 4%.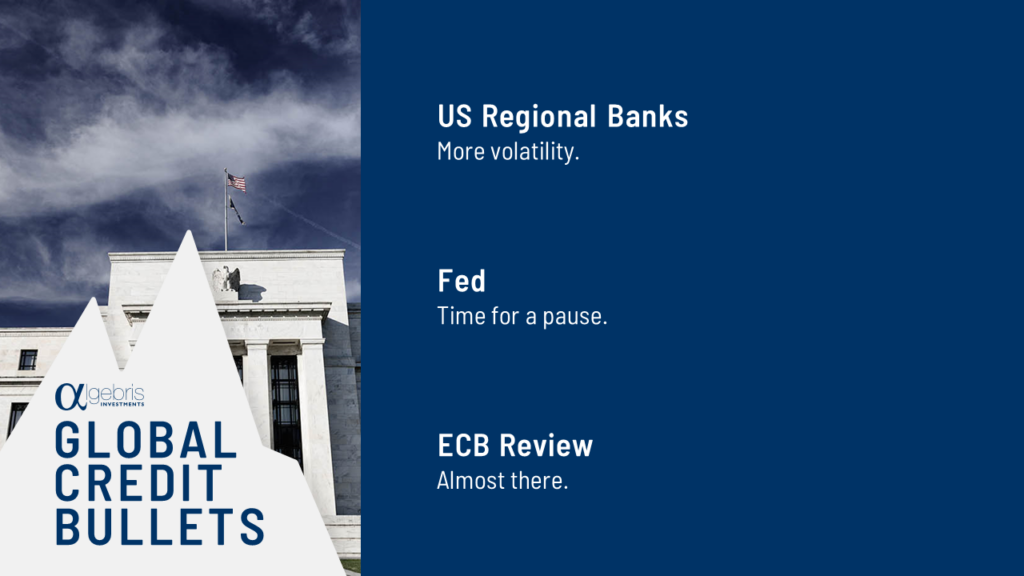 ---
Algebris Investments' Global Credit Team
This document is issued by Algebris (UK) Limited. The information contained herein may not be reproduced, distributed or published by any recipient for any purpose without the prior written consent of Algebris (UK) Limited.
Algebris (UK) Limited is authorised and Regulated in the UK by the Financial Conduct Authority. The information and opinions contained in this document are for background purposes only, do not purport to be full or complete and do not constitute investment advice. Under no circumstances should any part of this document be construed as an offering or solicitation of any offer of any fund managed by Algebris (UK) Limited. Any investment in the products referred to in this document should only be made on the basis of the relevant prospectus. This information does not constitute Investment Research, nor a Research Recommendation. Algebris (UK) Limited is not hereby arranging or agreeing to arrange any transaction in any investment whatsoever or otherwise undertaking any activity requiring authorisation under the Financial Services and Markets Act 2000.
No reliance may be placed for any purpose on the information and opinions contained in this document or their accuracy or completeness. No representation, warranty or undertaking, express or implied, is given as to the accuracy or completeness of the information or opinions contained in this document by any of Algebris (UK) Limited , its members, employees or affiliates and no liability is accepted by such persons for the accuracy or completeness of any such information or opinions.
The distribution of this document may be restricted in certain jurisdictions. The above information is for general guidance only, and it is the responsibility of any person or persons in possession of this document to inform themselves of, and to observe, all applicable laws and regulations of any relevant jurisdiction. This document is for private circulation to professional investors only.
© 2023 Algebris (UK) Limited. All Rights Reserved. 4th Floor, 1 St James's Market, SW1Y 4AH.