US Data – Loosening up.
Last week's US data painted an increasingly dovish picture. The manufacturing and service ISM surveys fell below estimates to 46.3 and 51.2 respectively, whereby the breakdowns showed that particularly prices paid and new orders fell meaningfully. The labour market showed signs of loosening too: ADP employment fell to 145k from 242k previously, while the Challenger job cuts survey indicated another 90k job cuts, mostly in the western US and driven by the tech and finance sector. JOLTS job openings declined by -8% to 9.9mn, the ratio of job openings to unemployed fell to 1.7x while the quits range stayed basically unchanged at 2.6%, only 10bp higher. Non-farm payroll showed a slightly rosier picture, but still display a slowing picture. Looser labour markets are dovish for the Fed, but softer inflation is a key condition for a softer tone. For this, Wednesday's CPI print will be key: Consensus currently estimates headline to rise 0.3% MoM and 5.2% YoY, while core is expected to rise 0.4% MoM and 5.6% YoY. For headline the numbers will be shaped by rising oil prices since mid-March versus falling food prices, while for core the recent rise in car prices will weigh against any potential declines in services and rents. The weakening labour market, paired with tight lending standards by banks and forward-looking indicators pointing to falling inflation make us increasingly confident that the Fed's current approach shall end soon. We expect the terminal rate to rise at most 25bps from here.
China – Reopening is alive and well. 
Pent-up demand is driving China's recovery in the services sector, following three years of lockdowns. China's service activity rose to a two-year high last week when the Caixin services PMI printed at 57.8, almost 3 points above consensus and the prior result. Further, the PBoC's index of income sentiment rose to 50.7 in Q1, supporting consumer confidence as incomes increase. Mobility is now back to pre-Covid levels in most cities, and even near 120% in Shenzhen, given the proximity to the open borders of Hong Kong. Flights data shows that domestic flights are back to around 80% of pre-Covid levels, and we expect this to rise further to 90% from June onwards based on scheduled flights. International travel is still only at 9% but should rise to 13% from June onwards. Despite the reopening to be services led, we still expect the commodity demand from China to rise later this year and put upward pressure on prices. Consensus sees GDP growth at 5.3% for 2023 compared to the official target of only 5%, but some economists with more bullish views even call for 6%. The China reopening trade has taken a breather in global markets lately, as the US banking stress and recession fears took centre stage, but we think the story is far from over.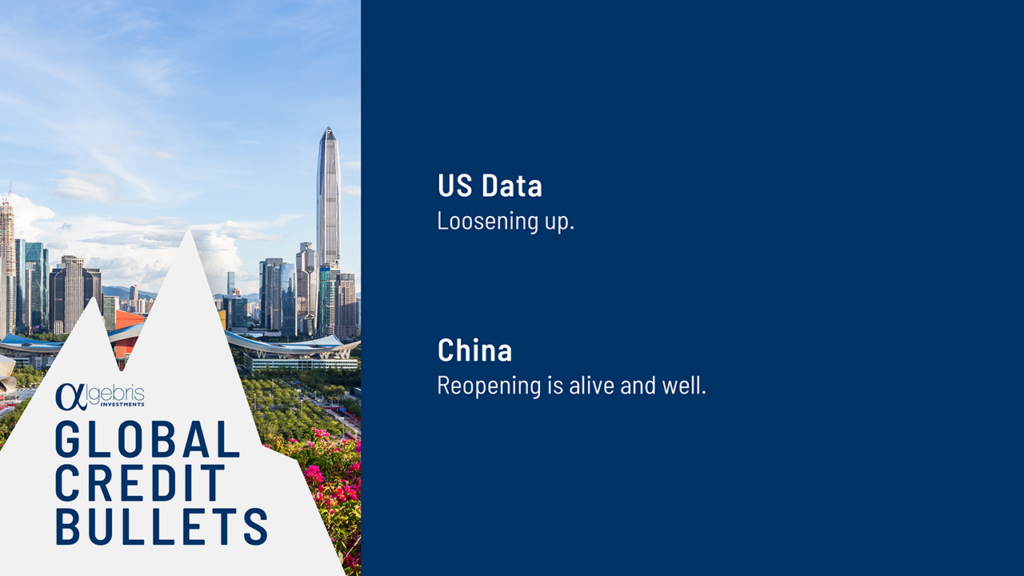 ---
Algebris Investments' Global Credit Team
This document is issued by Algebris (UK) Limited. The information contained herein may not be reproduced, distributed or published by any recipient for any purpose without the prior written consent of Algebris (UK) Limited.
Algebris (UK) Limited is authorised and Regulated in the UK by the Financial Conduct Authority. The information and opinions contained in this document are for background purposes only, do not purport to be full or complete and do not constitute investment advice. Under no circumstances should any part of this document be construed as an offering or solicitation of any offer of any fund managed by Algebris (UK) Limited. Any investment in the products referred to in this document should only be made on the basis of the relevant prospectus. This information does not constitute Investment Research, nor a Research Recommendation. Algebris (UK) Limited is not hereby arranging or agreeing to arrange any transaction in any investment whatsoever or otherwise undertaking any activity requiring authorisation under the Financial Services and Markets Act 2000.
No reliance may be placed for any purpose on the information and opinions contained in this document or their accuracy or completeness. No representation, warranty or undertaking, express or implied, is given as to the accuracy or completeness of the information or opinions contained in this document by any of Algebris (UK) Limited , its members, employees or affiliates and no liability is accepted by such persons for the accuracy or completeness of any such information or opinions.
The distribution of this document may be restricted in certain jurisdictions. The above information is for general guidance only, and it is the responsibility of any person or persons in possession of this document to inform themselves of, and to observe, all applicable laws and regulations of any relevant jurisdiction. This document is for private circulation to professional investors only.
© 2023 Algebris (UK) Limited. All Rights Reserved. 4th Floor, 1 St James's Market, SW1Y 4AH.