Virus – Never a break.
During the weekend, the UK has imposed stricter restrictions due to a sudden surge in cases over the past week. The increase is due to a new Covid strain, which transmits faster, according to experts. While the vaccine should ultimately work on this mutation too, lockdowns and travel restrictions in Europe are likely to be higher than anticipated over the next few months. The market is thus likely to remove some of the upbeat expectations factored in asset prices.
Fed – No Christmas gift.
The Federal Reserve refrained from dovish action in its latest meeting of 2020. Last week, the FOMC chose not to extend the average maturity of asset purchases, keeping the bulk on the front-end of the curve. Economic forecasts turned more positive for 2021, but guidance remains accommodative for long. While central banks are far from turning hawkish, 4Q20 may have represented the "high point" in monetary accommodation. Long-end rates may thus finally have some gradual upside from current levels, especially if 1H21 show a rebound in economic activity.
Brexit – No deal at the horizon.
The UK has missed the deadline imposed by the European Parliament for a Brexit deal (Dec, 20th). Talks are thus likely to continue over the week and potentially after Christmas, with chances of a hard Brexit going up by the day. Coupled with the negative UK virus news, delays suggest further downside for UK assets into year-end.
US fiscal – Habemus stimulus.
Late on Sunday, US party leaders finally struck a deal on the Covid relief plan. The new bills should be voted in Congress on Monday. The plan should bring $900bn in new stimulus, mostly focusing on employment and small businesses support. While this is a clear positive, markets were pricing high chances of new stimulus at this point. The package though may support US assets vs Europe, especially given the sudden increase in restrictions in UK and part of the Continent.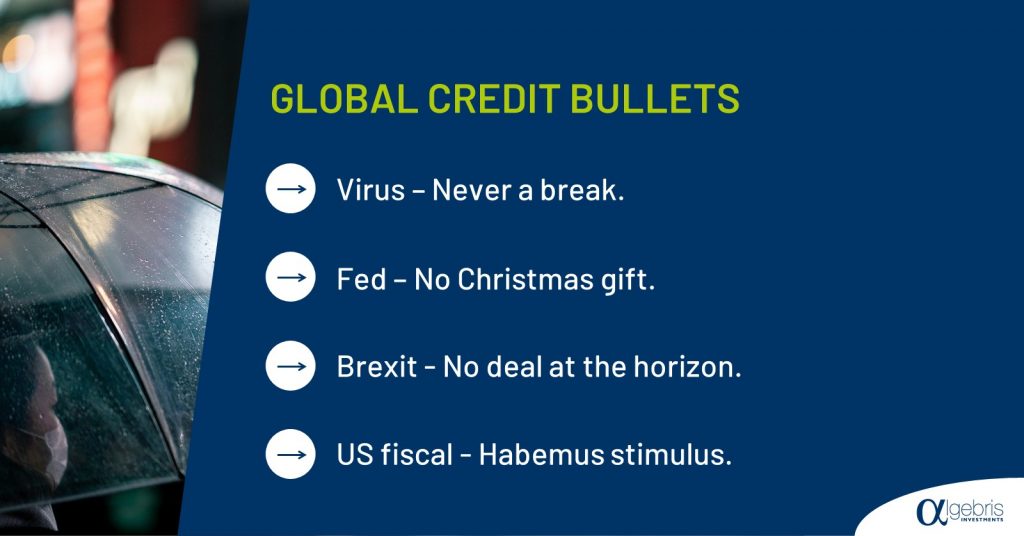 To read more on our latest views, please see our Silver Bullet | The New Bond Vigilantes or visit our Insights section.
This document is issued by Algebris (UK) Limited. The information contained herein may not be reproduced, distributed or published by any recipient for any purpose without the prior written consent of Algebris (UK) Limited.
Algebris (UK) Limited is authorised and Regulated in the UK by the Financial Conduct Authority. The information and opinions contained in this document are for background purposes only, do not purport to be full or complete and do not constitute investment advice. Under no circumstances should any part of this document be construed as an offering or solicitation of any offer of any fund managed by Algebris (UK) Limited. Any investment in the products referred to in this document should only be made on the basis of the relevant prospectus. This information does not constitute Investment Research, nor a Research Recommendation. Algebris (UK) Limited is not hereby arranging or agreeing to arrange any transaction in any investment whatsoever or otherwise undertaking any activity requiring authorisation under the Financial Services and Markets Act 2000.
No reliance may be placed for any purpose on the information and opinions contained in this document or their accuracy or completeness. No representation, warranty or undertaking, express or implied, is given as to the accuracy or completeness of the information or opinions contained in this document by any of Algebris (UK) Limited , its members, employees or affiliates and no liability is accepted by such persons for the accuracy or completeness of any such information or opinions.
The distribution of this document may be restricted in certain jurisdictions. The above information is for general guidance only, and it is the responsibility of any person or persons in possession of this document to inform themselves of, and to observe, all applicable laws and regulations of any relevant jurisdiction. This document is for private circulation to professional investors only.
© 2020 Algebris (UK) Limited. All Rights Reserved. 4th Floor, 1 St James's Market, SW1Y 4AH.