Investors doubting monetary or fiscal policy actions by governments have been nicknamed bond vigilantes in the '90s. After ten years of monetary policy anesthetic, the number of skeptics is growing.
There have been plenty of examples in emerging markets, including Argentina and Turkey, but what's interesting is that for the first time, the Vigilantes are turning their attention to developed markets.
1. In the UK, which faces a binary economic and political outcome on Brexit, the Bank of England has adopted a "rule of thumb" of one hike per year. Despite the unanimous 9-0 MPC vote, markets reacted with disappointment to the bank rate hike to 0.75%: Sterling fell and interest rates tightened.
2. In Italy, an early government meeting to discuss the 2019 budget was met with a rise in BTP yields over 3%. The move was later quelled thanks to a €950mn government buy back in short dated government paper.
3. The BoJ, whose balance sheet is now over 100% of Japan's GDP and who has been flagged an appetite for higher yields and quantitative tightening, decided to only widen the 10-year yield range to +/-0.2 percent from +/-0.1, causing a fall in 10-year yields and bank shares, which had previously risen on expectations of a more hawkish outcome.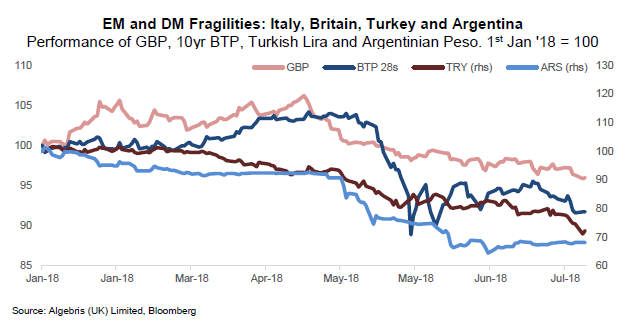 For more information about Algebris and its products, or to be added to our distribution lists, please contact Investor Relations at algebrisIR@algebris.com. Visit Algebris Insights for past commentaries.
This document is issued by Algebris Investments. It is for private circulation only. The information contained in this document is strictly confidential and is only for the use of the person to whom it is sent. The information contained herein may not be reproduced, distributed or published by any recipient for any purpose without the prior written consent of Algebris Investments.
The information and opinions contained in this document are for background purposes only, do not purport to be full or complete and do not constitute investment advice. Algebris Investments is not hereby arranging or agreeing to arrange any transaction in any investment whatsoever or otherwise undertaking any activity requiring authorisation under the Financial Services and Markets Act 2000. This document does not constitute or form part of any offer to issue or sell, or any solicitation of an offer to subscribe or purchase, any investment nor shall it or the fact of its distribution form the basis of, or be relied on in connection with, any contract therefore.
No reliance may be placed for any purpose on the information and opinions contained in this document or their accuracy or completeness. No representation, warranty or undertaking, express or implied, is given as to the accuracy or completeness of the information or opinions contained in this document by any of Algebris Investments, its members, employees or affiliates and no liability is accepted by such persons for the accuracy or completeness of any such information or opinions.
This document is being communicated by Algebris Investments only to persons to whom it may lawfully be issued under The Financial Services and Markets Act 2000 (Financial Promotion) Order 2005 including persons who are authorised under the Financial Services and Markets Act 2000 of the United Kingdom (the "Act"), certain persons having professional experience in matters relating to investments, high net worth companies, high net worth unincorporated associations and partnerships, trustees of high value trusts and persons who qualify as certified sophisticated investors. This document is exempt from the prohibition in Section 21 of the Act on the communication by persons not authorised under the Act of invitations or inducements to engage in investment activity on the ground that it is being issued only to such types of person. This is a marketing document.
The distribution of this document may be restricted in certain jurisdictions. The above information is for general guidance only, and it is the responsibility of any person or persons in possession of this document to inform themselves of, and to observe, all applicable laws and regulations of any relevant jurisdiction. This document is suitable for professional investors only. Algebris Group comprises Algebris (UK) Limited, Algebris Investments (Ireland) Limited, Algebris Investments (US) Inc. Algebris Investments (Asia) Limited, Algebris Investments K.K. and other non-regulated companies such as special purposes vehicles, general partner entities and holding companies.
© 2018 Algebris Investments. Algebris Investments is the trading name for the Algebris Group.