China – Weak momentum continues
China's Caixin PMI's fell last week by 3.1 points to 52.5, extending the ongoing decline in sentiment. Although the country's growth is still expected to reach 5% this year, the government is expressing concerns that the sluggish momentum could potentially undermine its target. Consequently, efforts are being made to reassure the markets through discussions about targeted stimulus measures and stronger currency fixes. The currency is near the lows, both against the USD and on a trade-weighted basis, but for now the People's Bank of China (PBoC) remains on the sidelines as speculative positioning is muted.
Markets – Good news is bad news
Global markets suffered last week, as continued strong US data caused long end yields to rise, spilling over into tighter financial conditions and thereby hurting risk. Steeper curves also mean that markets think the odds of a recession are lower, as central bank rate cuts are pushed further out the curve. In our view, low summer liquidity and stretched positioning is exacerbating the price action, and we think yield levels are looking attractive.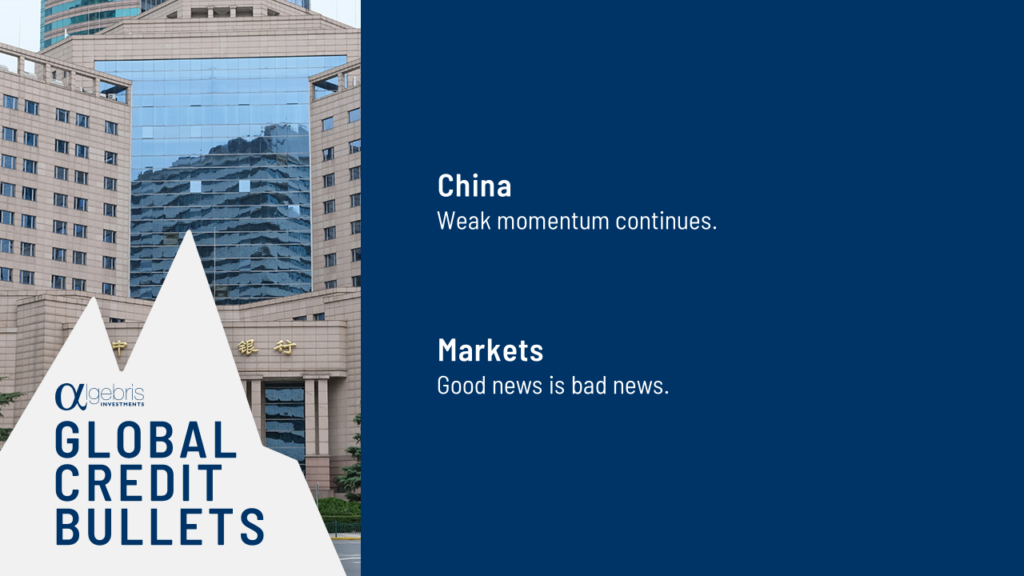 ---
Algebris Investments' Global Credit Team
This document is issued by Algebris (UK) Limited. The information contained herein may not be reproduced, distributed or published by any recipient for any purpose without the prior written consent of Algebris (UK) Limited.
Algebris (UK) Limited is authorised and Regulated in the UK by the Financial Conduct Authority. The information and opinions contained in this document are for background purposes only, do not purport to be full or complete and do not constitute investment advice. Under no circumstances should any part of this document be construed as an offering or solicitation of any offer of any fund managed by Algebris (UK) Limited. Any investment in the products referred to in this document should only be made on the basis of the relevant prospectus. This information does not constitute Investment Research, nor a Research Recommendation. Algebris (UK) Limited is not hereby arranging or agreeing to arrange any transaction in any investment whatsoever or otherwise undertaking any activity requiring authorisation under the Financial Services and Markets Act 2000.
No reliance may be placed for any purpose on the information and opinions contained in this document or their accuracy or completeness. No representation, warranty or undertaking, express or implied, is given as to the accuracy or completeness of the information or opinions contained in this document by any of Algebris (UK) Limited , its members, employees or affiliates and no liability is accepted by such persons for the accuracy or completeness of any such information or opinions.
The distribution of this document may be restricted in certain jurisdictions. The above information is for general guidance only, and it is the responsibility of any person or persons in possession of this document to inform themselves of, and to observe, all applicable laws and regulations of any relevant jurisdiction. This document is for private circulation to professional investors only.
© 2023 Algebris (UK) Limited. All Rights Reserved. 4th Floor, 1 St James's Market, SW1Y 4AH.