Fed Preview – On knife's edge
The Fed is likely to hold rates on pause this week, after raising them 500bps over the past ten consecutive meetings. Fed speakers had recently advocated "skipping" this meeting, so the market now only prices 30% odds for another hike.
Looking ahead, we anticipate the guidance to leave room for potential future hikes, similar to the approach taken by the central banks of Canada and Australia when they also held rates. Furthermore, we will closely monitor the new projections to assess the likelihood of additional hikes.
A significant focus leading up to the meeting will be on the CPI print scheduled for Tuesday, which is projected to decline to 4.1% YoY (headline) and 5.3% YoY (core), reflecting a decrease of 0.7% and 0.2% respectively compared to the previous readings.

ECB Preview – Further ground to cover
The ECB is likely to raise rates by 25bps to 3.5% this week, aligning with market expectations and previous committee guidance. Focus will lie on the new inflation and growth expectations, which may be lowered following recent negative data surprises.
While the hawks have softened their tone, there is still consensus that underlying inflation dynamics remain too high. Therefore, we anticipate guidance for further rate hikes and a projected terminal rate of 3.75%.
Markets – Pivotal week
This week is key for markets, as we may see the potential end to the Feds hiking cycle, with important implications across asset classes.
While individual central banks may continue to diverge for some time (e.g. ECB and BoE), inflation has mostly turned the corner and rates have reached their peak. This creates a constructive environment, especially in credit.
Although most corporations have low leverage and manageable maturity walls, their performance during the global economic slowdown may vary. In emerging markets, central banks have been proactive in hiking rates earlier and to a greater extent than the Fed, affording them more room to implement significant cuts as well.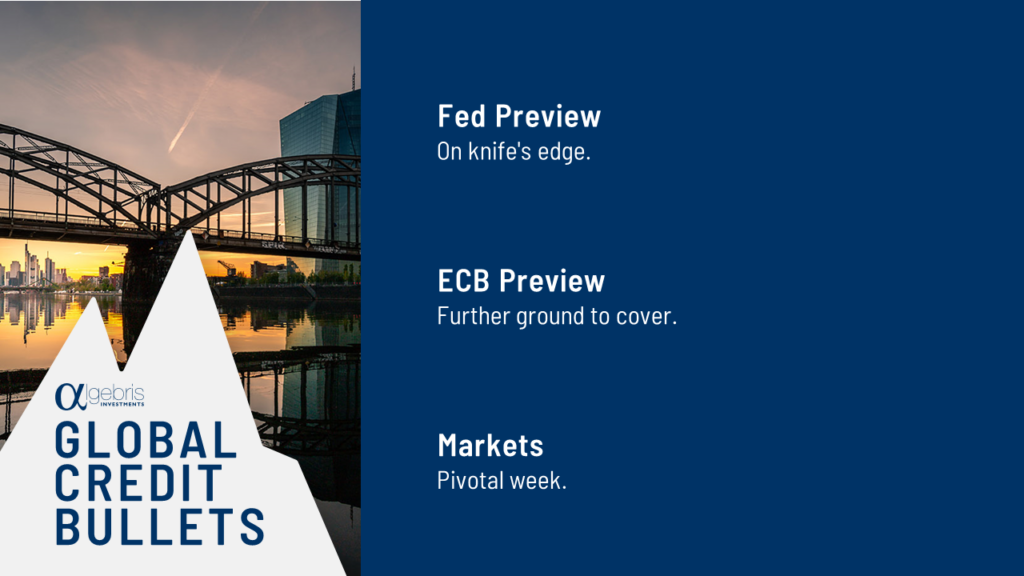 ---
Algebris Investments' Global Credit Team
This document is issued by Algebris (UK) Limited. The information contained herein may not be reproduced, distributed or published by any recipient for any purpose without the prior written consent of Algebris (UK) Limited.
Algebris (UK) Limited is authorised and Regulated in the UK by the Financial Conduct Authority. The information and opinions contained in this document are for background purposes only, do not purport to be full or complete and do not constitute investment advice. Under no circumstances should any part of this document be construed as an offering or solicitation of any offer of any fund managed by Algebris (UK) Limited. Any investment in the products referred to in this document should only be made on the basis of the relevant prospectus. This information does not constitute Investment Research, nor a Research Recommendation. Algebris (UK) Limited is not hereby arranging or agreeing to arrange any transaction in any investment whatsoever or otherwise undertaking any activity requiring authorisation under the Financial Services and Markets Act 2000.
No reliance may be placed for any purpose on the information and opinions contained in this document or their accuracy or completeness. No representation, warranty or undertaking, express or implied, is given as to the accuracy or completeness of the information or opinions contained in this document by any of Algebris (UK) Limited , its members, employees or affiliates and no liability is accepted by such persons for the accuracy or completeness of any such information or opinions.
The distribution of this document may be restricted in certain jurisdictions. The above information is for general guidance only, and it is the responsibility of any person or persons in possession of this document to inform themselves of, and to observe, all applicable laws and regulations of any relevant jurisdiction. This document is for private circulation to professional investors only.
© 2023 Algebris (UK) Limited. All Rights Reserved. 4th Floor, 1 St James's Market, SW1Y 4AH.