US – Focus on CPI and Retail Sales
This week offers key data to shape the path for rates and monetary policy into year end. Tuesday's CPI is expected to fall to 3.3% from 3.7% YoY, while core is expected to stay unchanged at 4.1% YoY. Declines in energy prices will lower the headline number. Seasonal adjustments and higher used car prices keep pressure on core, but lower rents may balance some of this effect. Wednesday's retail sales are expected to fall by -0.3% MoM, compared to +0.7% last month, and are particular important to gauge any signs of the US consumer slowing.
Treasury Auctions – Supply Jam
The US Treasury issued $40bn 10Y bonds and $24bn 30Y bonds last week, and both auctions tailed indicating lower demand. Wednesday's 10Y auction had no material impact on markets, but the 30Y auction was met with a strong selloff, pushing 30Y yields up to +20bps intraday. High US fiscal deficits mean Treasury issuance stays high in the coming months and years, which is a known risk but is likely to weigh on bond markets.
Credit markets – Alive and well
Last week saw a slew of credit issuance across corporates, financials and EM. According to JP Morgan, IG corporates and financials issued $45bn and €18bn, while HY issuers brought $8bn and €2bn. We see this as a tentative sign of normalization in credit markets following an episode of high rates volatility, and signals a high amount of pent-up supply. Issuance has been absorbed well, as most deals have been oversubscribed and traded up post issuance. Most notably, UBS raised $3.5bn with two AT1s for the first time since their takeover of Credit Suisse. EM new issues included $2.5bn Colombia sovereign debt across two tranches, in addition to Bulgaria, Uruguay, Turkey, Costa Rica and Indonesia.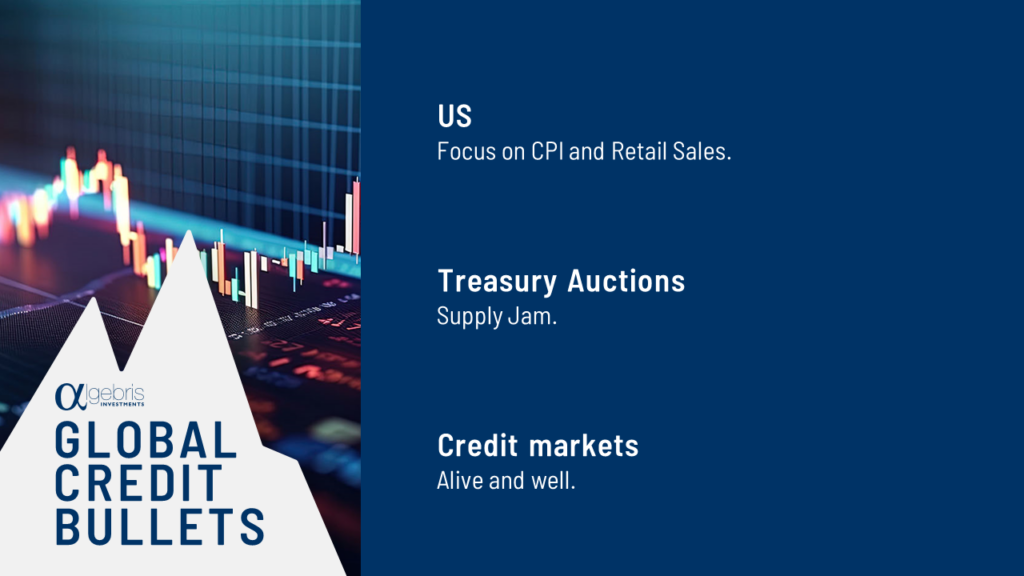 ---
Algebris Investments' Global Credit Team
This document is issued by Algebris (UK) Limited. The information contained herein may not be reproduced, distributed or published by any recipient for any purpose without the prior written consent of Algebris (UK) Limited.
Algebris (UK) Limited is authorised and Regulated in the UK by the Financial Conduct Authority. The information and opinions contained in this document are for background purposes only, do not purport to be full or complete and do not constitute investment advice. Under no circumstances should any part of this document be construed as an offering or solicitation of any offer of any fund managed by Algebris (UK) Limited. Any investment in the products referred to in this document should only be made on the basis of the relevant prospectus. This information does not constitute Investment Research, nor a Research Recommendation. Algebris (UK) Limited is not hereby arranging or agreeing to arrange any transaction in any investment whatsoever or otherwise undertaking any activity requiring authorisation under the Financial Services and Markets Act 2000.
No reliance may be placed for any purpose on the information and opinions contained in this document or their accuracy or completeness. No representation, warranty or undertaking, express or implied, is given as to the accuracy or completeness of the information or opinions contained in this document by any of Algebris (UK) Limited , its members, employees or affiliates and no liability is accepted by such persons for the accuracy or completeness of any such information or opinions.
The distribution of this document may be restricted in certain jurisdictions. The above information is for general guidance only, and it is the responsibility of any person or persons in possession of this document to inform themselves of, and to observe, all applicable laws and regulations of any relevant jurisdiction. This document is for private circulation to professional investors only.
© 2023 Algebris (UK) Limited. All Rights Reserved. 4th Floor, 1 St James's Market, SW1Y 4AH.