US debt ceiling – Showtime.
The deadline for an agreement on the US debt ceiling approaches, with Republicans and Democrats in need to find an agreement by early June. The political tone has softened over the past week, suggesting a desire to find a middle ground. An increase of the borrowing limit looks more likely than a postponement of the discussion to September, and it is the most bullish scenario, as it would put the discussion on hold for a relatively long time. US CDS is now at 160bp, in line with some high quality emerging markets. Investors are thus giving a relatively high chance to a technical accident, and hence we scope for a relief rally in risk assets over the next couple weeks, shall the discussions between parties continue on the right track.
Turkey – Wind of change fading down.
The first round of Turkey Presidential elections concluded with a strong affirmation of President Erdogan, with c.50% of the votes, against 44% of the main opposition candidate. The result came as a surprise, as polls suggested an opposition victory. While vote counting is still going on, Mr Erdogan looks unlikely to win at first round. Presidency will thus be determined via the runoff round on May 28th. The stance of the third candidate, Sinan Ogan, will be key in determine the outcome. However, first round numbers suggest an incumbent win is now the base case. Turkish assets are selling off aggressively on Monday morning, with protection against the country's failure up 100bp, and the stock market down 10%. We believe regime continuity means a continuation of the unorthodox policies which characterized the past few years, with the difference that the starting point in terms of fundamentals is now weaker than three years ago. We thus see relatively high chances of a balance of payment crisis over the next few years, and remain negative on the country's economic trajectory.
US inflation – Cooling down.
US CPI for April rose 0.4% on the month and 4.9% on the year. Core inflation remains elevated, at 5.5%. Data were in line with consensus, with headline inflation a touch softer. Used cars displayed an unusually strong month, meaning the remaining components came in soft. Shelter inflation continues to slow, and is now running at 0.4% on the month, half of what it was in late 2022. The print is overall soft, and legitimates the new neutral stance by the Federal Reserve. Following April data, the bar for a hike in summer is higher. We expect that inflation will continue to fall in 2023, but will remain at elevated levels, with core inflation not falling below 3% over the next 12 months. As a result, the cuts the market is pricing starting in summer look excessive to us.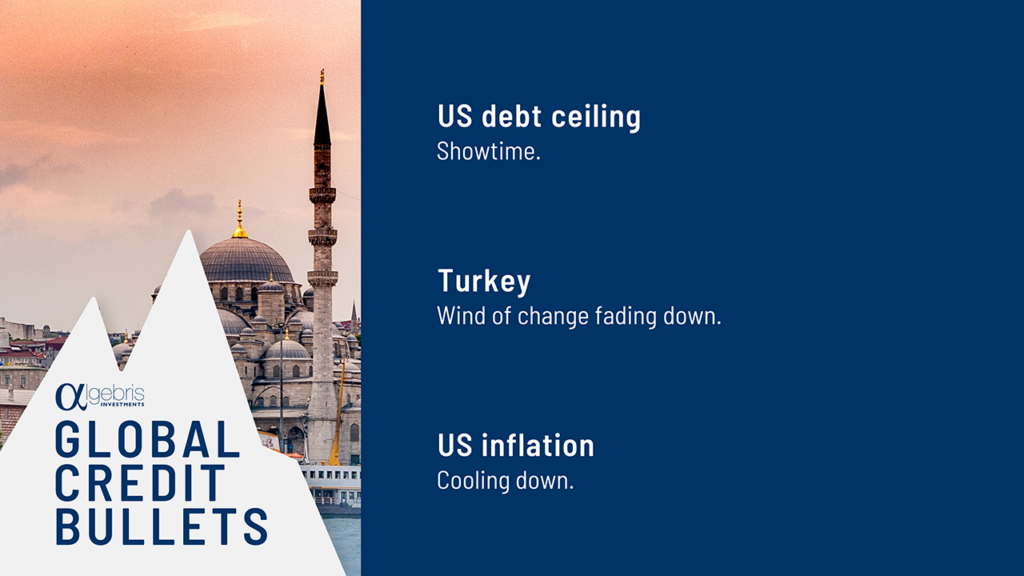 ---
Algebris Investments' Global Credit Team
This document is issued by Algebris (UK) Limited. The information contained herein may not be reproduced, distributed or published by any recipient for any purpose without the prior written consent of Algebris (UK) Limited.
Algebris (UK) Limited is authorised and Regulated in the UK by the Financial Conduct Authority. The information and opinions contained in this document are for background purposes only, do not purport to be full or complete and do not constitute investment advice. Under no circumstances should any part of this document be construed as an offering or solicitation of any offer of any fund managed by Algebris (UK) Limited. Any investment in the products referred to in this document should only be made on the basis of the relevant prospectus. This information does not constitute Investment Research, nor a Research Recommendation. Algebris (UK) Limited is not hereby arranging or agreeing to arrange any transaction in any investment whatsoever or otherwise undertaking any activity requiring authorisation under the Financial Services and Markets Act 2000.
No reliance may be placed for any purpose on the information and opinions contained in this document or their accuracy or completeness. No representation, warranty or undertaking, express or implied, is given as to the accuracy or completeness of the information or opinions contained in this document by any of Algebris (UK) Limited , its members, employees or affiliates and no liability is accepted by such persons for the accuracy or completeness of any such information or opinions.
The distribution of this document may be restricted in certain jurisdictions. The above information is for general guidance only, and it is the responsibility of any person or persons in possession of this document to inform themselves of, and to observe, all applicable laws and regulations of any relevant jurisdiction. This document is for private circulation to professional investors only.
© 2023 Algebris (UK) Limited. All Rights Reserved. 4th Floor, 1 St James's Market, SW1Y 4AH.