Middle East – Geopolitical risks on the rise
Geopolitical risks are back in focus as Israel-Gaza tensions quickly erupted in a war. The market's implications depend on how broad the conflict evolves. If the war scope remains regional, the market impact is unlikely to last long. However, should other regional players join the conflict, markets will look at it as a proxy for US-Iran confrontation. This second case could lead to heightened global tensions and material disruption to oil supply, as Iran production has been trending higher for most of 2023, and Saudi production may be felt at risk too. Weaker equities and credit, higher rates and commodities would thus be the most likely scenario on a further escalation, though not in the base case of a fully local conflict.
US – Fed speakers vs inflation
Fed speakers have acknowledged the tightening of financial conditions due to higher long end yields, and some have argued this may remove the need for further rate hikes. Disputing this, inflation surprised to the upside by 0.1% last week, with headline CPI at 3.7% YoY and core at 4.1% YoY. The rise was driven by an unexpected rise in shelter, for which we know that leading indicators point lower and so the underlying picture of easing price pressures remained intact. The Fed is scheduled to meet on November 1st next, and markets only price 4bps or 16% odds of a hike.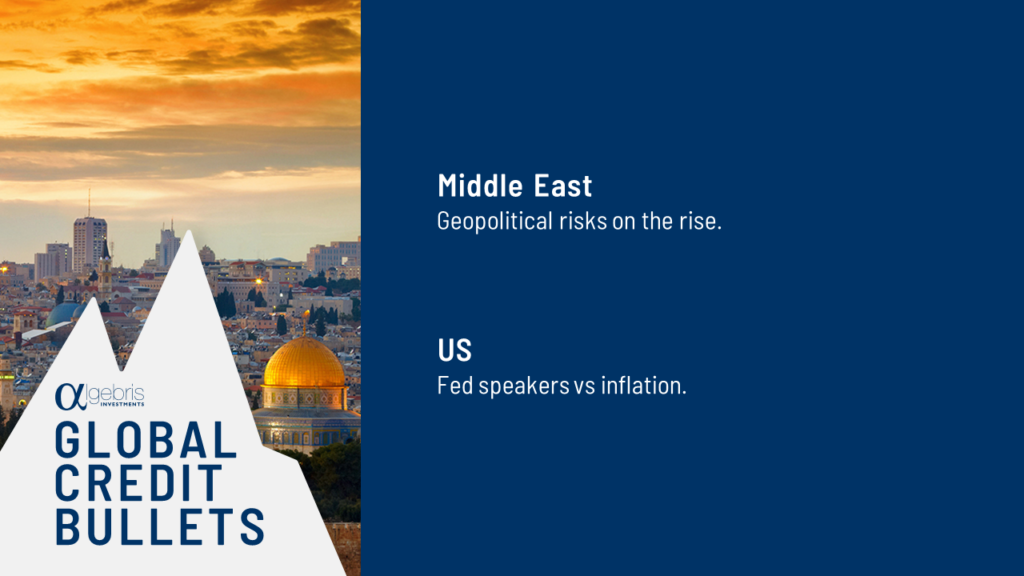 ---
Algebris Investments' Global Credit Team
This document is issued by Algebris (UK) Limited. The information contained herein may not be reproduced, distributed or published by any recipient for any purpose without the prior written consent of Algebris (UK) Limited.
Algebris (UK) Limited is authorised and Regulated in the UK by the Financial Conduct Authority. The information and opinions contained in this document are for background purposes only, do not purport to be full or complete and do not constitute investment advice. Under no circumstances should any part of this document be construed as an offering or solicitation of any offer of any fund managed by Algebris (UK) Limited. Any investment in the products referred to in this document should only be made on the basis of the relevant prospectus. This information does not constitute Investment Research, nor a Research Recommendation. Algebris (UK) Limited is not hereby arranging or agreeing to arrange any transaction in any investment whatsoever or otherwise undertaking any activity requiring authorisation under the Financial Services and Markets Act 2000.
No reliance may be placed for any purpose on the information and opinions contained in this document or their accuracy or completeness. No representation, warranty or undertaking, express or implied, is given as to the accuracy or completeness of the information or opinions contained in this document by any of Algebris (UK) Limited , its members, employees or affiliates and no liability is accepted by such persons for the accuracy or completeness of any such information or opinions.
The distribution of this document may be restricted in certain jurisdictions. The above information is for general guidance only, and it is the responsibility of any person or persons in possession of this document to inform themselves of, and to observe, all applicable laws and regulations of any relevant jurisdiction. This document is for private circulation to professional investors only.
© 2023 Algebris (UK) Limited. All Rights Reserved. 4th Floor, 1 St James's Market, SW1Y 4AH.