US inflation – All the way down
US CPI for June was recorded at 0.2% m/m and 3% y/y, the lowest level since March 2021, and only a third of the peak reached in summer 2022. Core inflation came out at 0.15% on the month and 4.8% for the year.
Amongst core components, shelter inflation remains the only one displaying sustained growth although at a slower pace compared to the monthly increments displayed in the first quarter of 2023.
Excluding shelter costs, core inflation was flat for the month. The data are decently soft and show that the disinflation picture in US is rosy both looking at levels and components. The data will help a relief in rates and bonds, especially after last week's strong increase in real rates. Additionally, considering that labor market data also came in weaker than expected last week, the Fed will hike in July but will have a hard time in providing the hawkish guidance that the market expects. The print has triggered a turn in US rates, with 10y now down to 3.8% from the peak of 4% reached last week. We believe there is further potential for the move, especially leading up to the July Fed meeting.
China – Stimulus mode
Chinese authorities are increasing economic stimulus measures as the macro deteriorates.
Latest economic data continues to worsen: exports for June were down 8% from one year earlier after having been flat in May. The trade data corroborate the evidence coming from retail sales and the housing market over the past six weeks. The country is now on track for 4.5-5% growth vs 6-7% expected earlier this year, and deflation continues. The authorities are becoming increasingly concerned and have begun implementing stimulus initiatives: measures supporting the housing market have been extended for another year, and interest rates have been cut in June and may be cut again in summer. The currency started weakening, but authorities are leaning against it via controlling rates on dollar deposits. The data deterioration is profound and will affect the global economy, as things stand. Authorities' recognition and stimulus are encouraging signs. However, there is a need for them to be accelerated and intensified in order to have a more lasting effect on global markets.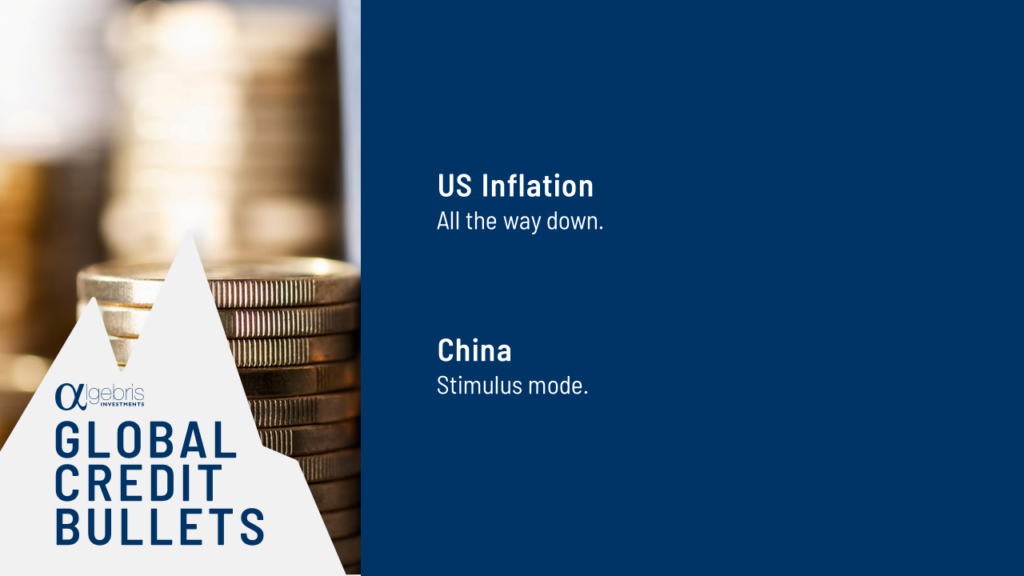 ---
Algebris Investments' Global Credit Team
This document is issued by Algebris (UK) Limited. The information contained herein may not be reproduced, distributed or published by any recipient for any purpose without the prior written consent of Algebris (UK) Limited.
Algebris (UK) Limited is authorised and Regulated in the UK by the Financial Conduct Authority. The information and opinions contained in this document are for background purposes only, do not purport to be full or complete and do not constitute investment advice. Under no circumstances should any part of this document be construed as an offering or solicitation of any offer of any fund managed by Algebris (UK) Limited. Any investment in the products referred to in this document should only be made on the basis of the relevant prospectus. This information does not constitute Investment Research, nor a Research Recommendation. Algebris (UK) Limited is not hereby arranging or agreeing to arrange any transaction in any investment whatsoever or otherwise undertaking any activity requiring authorisation under the Financial Services and Markets Act 2000.
No reliance may be placed for any purpose on the information and opinions contained in this document or their accuracy or completeness. No representation, warranty or undertaking, express or implied, is given as to the accuracy or completeness of the information or opinions contained in this document by any of Algebris (UK) Limited , its members, employees or affiliates and no liability is accepted by such persons for the accuracy or completeness of any such information or opinions.
The distribution of this document may be restricted in certain jurisdictions. The above information is for general guidance only, and it is the responsibility of any person or persons in possession of this document to inform themselves of, and to observe, all applicable laws and regulations of any relevant jurisdiction. This document is for private circulation to professional investors only.
© 2023 Algebris (UK) Limited. All Rights Reserved. 4th Floor, 1 St James's Market, SW1Y 4AH.