Fed Preview – Hawkish Hold
The Fed is expected to hold rates steady at 5.5% this Wednesday, but to maintain a tightening bias. Their updated projections are likely to show one more hike in 2023, higher growth in 2023/24 but aim to stabilize inflation. US activity data continued strong last week, with improved retail sales and industrial production. Notably, the Empire Manufacturing Index surged by over 20pts back into positive territory. August's CPI rose to 3.7% from 3.2% YoY, mainly driven by higher energy prices, but sticky components like rents continued to fall from 0.5% to 0.4% MoM.
ECB Review – Dovish Hike
The ECB likely delivered their final hike of this cycle, by raising rates by 25bps to 4%. Updated projections showed growth and core inflation downgrades, while headline inflation in 2024 was revised up due to rising energy prices. Rates rallied strongly as a result, but reversed the moves the following day as hawks contemplated the possibility of additional rate hikes or adjustments to the balance sheet. Friday's PMIs will be the next key hurdle for the ECB to provide insight into the economic trajectory, and potentially shifting the focus of the next discussion from rate hikes to rate cuts.
Global Central Banks – Moves across the spectrum
The BoE is likely to hike rates by 25bp to 5.5% following generally softer data, albeit at continued very high levels (e.g. wage growth still >8%, services inflation still >7%). In contrast, Brazil's BCB is likely to cut rates by 50bp to 12.75% and afterwards has room for more, given inflation only stands at 4.61% YoY in the latest IPCA print. The BoJ remains stuck between negative rates and a weak yen, against which Ueda is likely to push back to keep a further depreciation in check. Rates will likely remain unchanged until at least year-end or Q1-24, with no expected adjustment to YCC before October.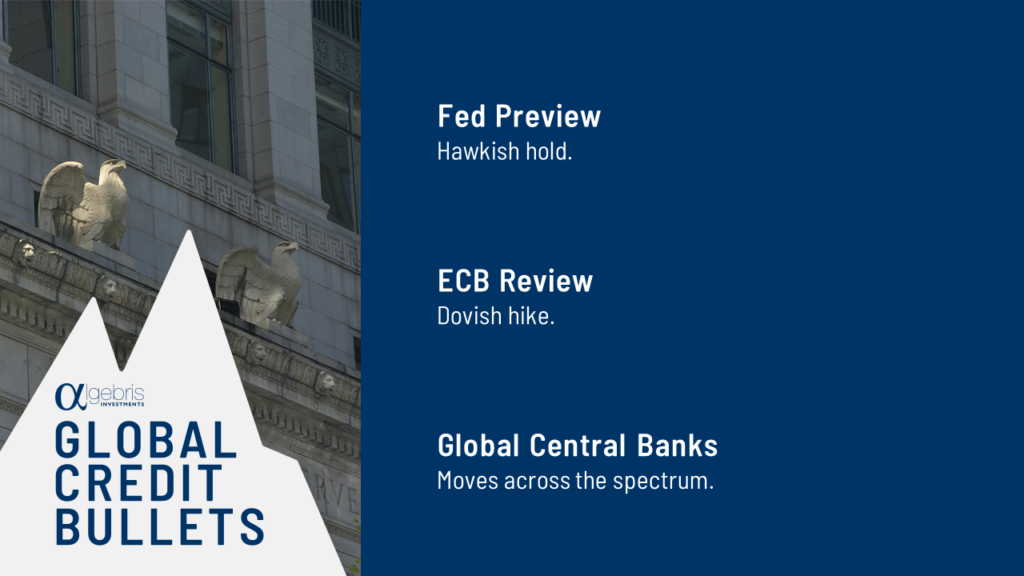 ---
Algebris Investments' Global Credit Team
This document is issued by Algebris (UK) Limited. The information contained herein may not be reproduced, distributed or published by any recipient for any purpose without the prior written consent of Algebris (UK) Limited.
Algebris (UK) Limited is authorised and Regulated in the UK by the Financial Conduct Authority. The information and opinions contained in this document are for background purposes only, do not purport to be full or complete and do not constitute investment advice. Under no circumstances should any part of this document be construed as an offering or solicitation of any offer of any fund managed by Algebris (UK) Limited. Any investment in the products referred to in this document should only be made on the basis of the relevant prospectus. This information does not constitute Investment Research, nor a Research Recommendation. Algebris (UK) Limited is not hereby arranging or agreeing to arrange any transaction in any investment whatsoever or otherwise undertaking any activity requiring authorisation under the Financial Services and Markets Act 2000.
No reliance may be placed for any purpose on the information and opinions contained in this document or their accuracy or completeness. No representation, warranty or undertaking, express or implied, is given as to the accuracy or completeness of the information or opinions contained in this document by any of Algebris (UK) Limited , its members, employees or affiliates and no liability is accepted by such persons for the accuracy or completeness of any such information or opinions.
The distribution of this document may be restricted in certain jurisdictions. The above information is for general guidance only, and it is the responsibility of any person or persons in possession of this document to inform themselves of, and to observe, all applicable laws and regulations of any relevant jurisdiction. This document is for private circulation to professional investors only.
© 2023 Algebris (UK) Limited. All Rights Reserved. 4th Floor, 1 St James's Market, SW1Y 4AH.