Geopolitical Risk – Russia and China vs the US?
China and Russia are escalating tensions, testing the new US administration. After years of economic tensions, the last few weeks show these might translate into further technological conflict and potentially military conflict. Recent hacking allegations and the US ban of Huawei from 5G highlight the potential risk of semiconductor supply being in or near China – and the strategic value of Taiwan, where China has recently positioned a number of warships. At the same time, Russia continues a build-up of troops near the Ukraine border, despite a recent round of sanctions. We believe an escalation of geopolitical risks might happen over the coming months, as China and Russia together continue to test the new Biden administration.
Next Generation EU Recovery Fund – A step in the right direction.
Following the $1.9tn relief bill passage in the US last month and talks of a further US infrastructure plan later in 2021, focus has shifted towards the €750bn Next Generation EU (NGEU) recovery fund. Regarding the timeline, EU member countries have until April 30th to submit their final national plans, outlining how they intend to spend EU funds. When received, the Commission will have up to 2 months to assess and recommend approval to the Council, which in turn has 4 weeks to approve them. Hence, we expect the first 10% of total funds to be disbursed in Q3, with the earliest estimates of the first disbursements to begin in July – one year after the EU agreed on the landmark package. We believe that the deployment of the NGEU fund is a step in the right direction, but it remains small. However, if successful, we think this could serve as an important stepping-stone towards further EU fiscal integration in the future.
Rates – Position for higher periphery yields.
Last week saw a strong repricing in USD rates, with US 30Y yields falling 0.1% on Thursday. The move contradicted strong macro data during the week, and instead was largely driven by technical factors: Hedge Funds were forced to abandon their duration shorts and Japanese investors were buyers of US Treasuries since the beginning of the month. In parallel, the move tighter in rates and strong macro data drove risk assets higher and compressed USD high-yield credit spreads near all-time lows of 2.9%.
Going forward, we expect little news flow over the next 1-2 months to push US rates materially higher, but we do continue to believe that the path for global rates is higher. In the summer, we believe EUR rates and especially the periphery can widen: If the reopening goes well in Europe, yields will follow USD yields higher. If the reopening is delayed, peripheral countries will be forced to issue more debt, justifying higher risk premia. Italian Government Bonds look especially vulnerable, as Mario Draghi announced to borrow another €40bn, with government debt reaching 160% of GDP this year. We expect Thursday's ECB meeting to be quiet, without any updates to economic forecasts. Instead, investors will focus on comments around the PEPP purchase pace and the general economic outlook.
Huarong – Too big to fail?
Concerns surrounding state-owned Huarong Asset Management have been growing since it said it would delay the release of its financial results at the start of April, raising concerns on the financial health of the company. We believe it would be irrational for the Chinese government to do nothing and allow an outright default of Huarong's dollar bonds, given the systemic importance of Huarong and wide-ranging implications of such a default. With total asset at CNY1.73tn and borrowing from banks at CNY766bn at end1H20, Huarong has a high exposure to commercial banks. A default would lead to a 59bp rise in the NPL ratio from 1.9% to 2.5%. To compare, the COVID-19 effects only drove the NPL ratio 6bp higher YoY in 2020 from 1.86% to 1.92%. Hence, as we await more clarity in the coming days, our base case is for Huarong to go ahead with its reform plan, which involves the disposal of some of its non-core/loss-making subsidiaries, whilst keeping Huarong International and without restructuring the dollar bonds.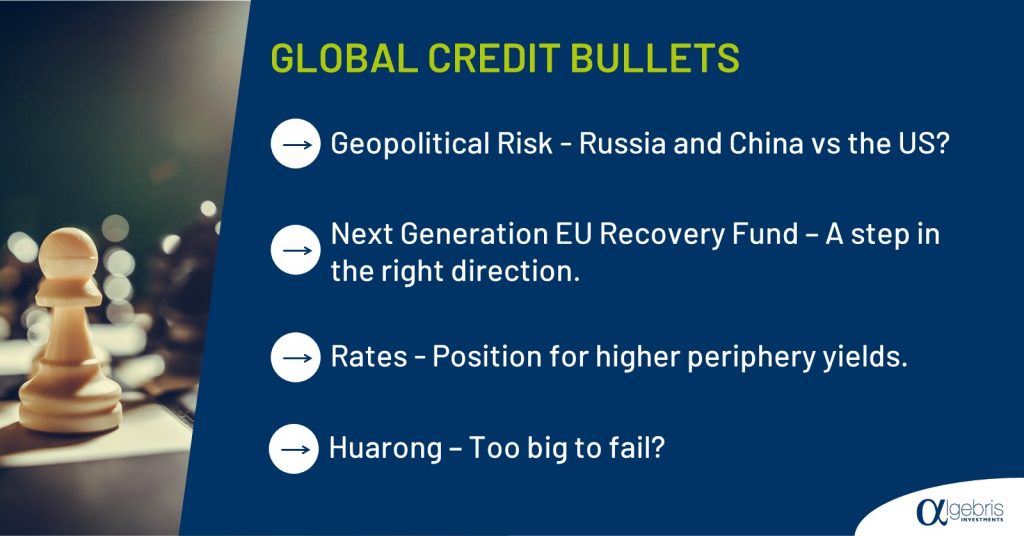 To read more on our latest views, please see our Silver Bullet | A World Without Safe Havens or visit our Insights section.
This document is issued by Algebris (UK) Limited. The information contained herein may not be reproduced, distributed or published by any recipient for any purpose without the prior written consent of Algebris (UK) Limited.
Algebris (UK) Limited is authorised and Regulated in the UK by the Financial Conduct Authority. The information and opinions contained in this document are for background purposes only, do not purport to be full or complete and do not constitute investment advice. Under no circumstances should any part of this document be construed as an offering or solicitation of any offer of any fund managed by Algebris (UK) Limited. Any investment in the products referred to in this document should only be made on the basis of the relevant prospectus. This information does not constitute Investment Research, nor a Research Recommendation. Algebris (UK) Limited is not hereby arranging or agreeing to arrange any transaction in any investment whatsoever or otherwise undertaking any activity requiring authorisation under the Financial Services and Markets Act 2000.
No reliance may be placed for any purpose on the information and opinions contained in this document or their accuracy or completeness. No representation, warranty or undertaking, express or implied, is given as to the accuracy or completeness of the information or opinions contained in this document by any of Algebris (UK) Limited , its members, employees or affiliates and no liability is accepted by such persons for the accuracy or completeness of any such information or opinions.
The distribution of this document may be restricted in certain jurisdictions. The above information is for general guidance only, and it is the responsibility of any person or persons in possession of this document to inform themselves of, and to observe, all applicable laws and regulations of any relevant jurisdiction. This document is for private circulation to professional investors only.
© 2021 Algebris (UK) Limited. All Rights Reserved. 4th Floor, 1 St James's Market, SW1Y 4AH.