Italy – Mind the spread
Deficit projections rose last week from 4.5% to 5.3% of GDP for 2023, and from 3.7% to 4.3% of GDP for 2024. The rise reflects a combination of higher building renovation tax credits in 2023, and more fiscal stimulus via tax cuts in 2024. The direction of rising fiscal deficits is a negative sign for the government, putting debt/GDP solidly on a higher path, especially given recent inflation softness. Growth forecasts underlying 2024 are optimistic (1.2% growth vs 0.8% expected by the European Commission), opening to fiscal slippage risk. The Btp-Bund spread remained quiet for more than one year after the ECB introduced a conditional support program in summer 2022. A comeback of fiscal risks may mean more turbulence ahead, especially given levels are quite tight vs history. This week the spread tested 200bp after having hovered at 180bp for the past few months.
Energy markets – Supply squeeze challenges inflation outlook
Oil prices have risen by 10% in September to levels last seen in November 2022, up to $95 per barrel on Brent oil. The squeeze was driven by tightening supply from Saudi Arabia and Russia, whereby last week's move was driven by lower than expected US strategic oil reserve levels. The price increases come at a time where headline inflation is falling strongly amid negative base effects, and therefore threatens the disinflationary outlook ahead. We expect central banks to look at the transitory effects from higher oil price, but are mindful that core prices are affected through e.g. airfares too.
Risk off – Jittery markets into Q4
Higher and steeper rates are hurting risk markets, with credit spreads widening and equities markets falling throughout last month. While rates markets remain volatile and mostly driven by positioning and technical flows, the underlying picture of higher real yields amid a more resilient economy remains intact. We expect several headwinds into Q4, including the ongoing UAW strikes, higher energy prices, the resumption of student loan repayments and the drawdown of excess savings, to keep risk markets afoot.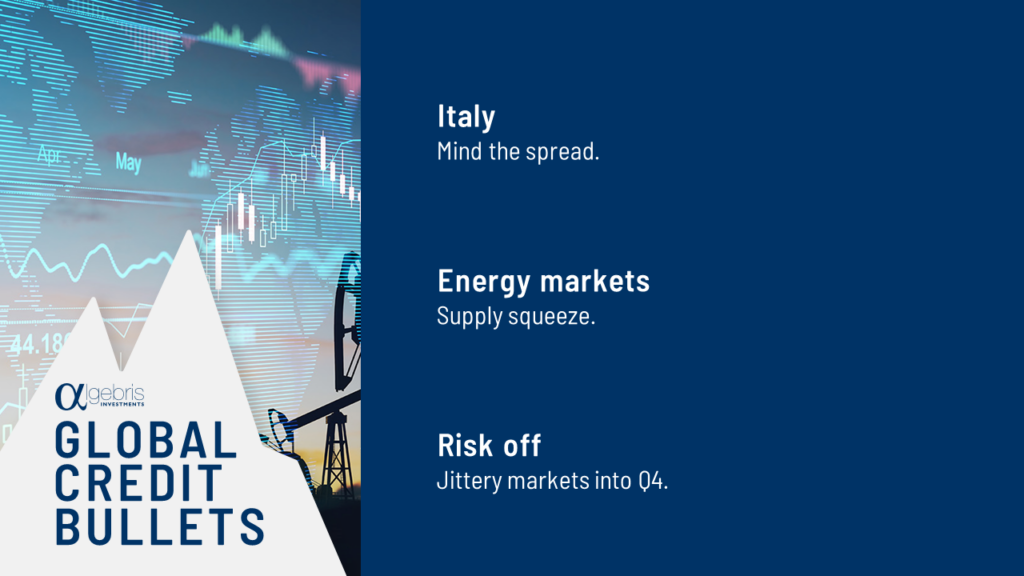 ---
Algebris Investments' Global Credit Team
This document is issued by Algebris (UK) Limited. The information contained herein may not be reproduced, distributed or published by any recipient for any purpose without the prior written consent of Algebris (UK) Limited.
Algebris (UK) Limited is authorised and Regulated in the UK by the Financial Conduct Authority. The information and opinions contained in this document are for background purposes only, do not purport to be full or complete and do not constitute investment advice. Under no circumstances should any part of this document be construed as an offering or solicitation of any offer of any fund managed by Algebris (UK) Limited. Any investment in the products referred to in this document should only be made on the basis of the relevant prospectus. This information does not constitute Investment Research, nor a Research Recommendation. Algebris (UK) Limited is not hereby arranging or agreeing to arrange any transaction in any investment whatsoever or otherwise undertaking any activity requiring authorisation under the Financial Services and Markets Act 2000.
No reliance may be placed for any purpose on the information and opinions contained in this document or their accuracy or completeness. No representation, warranty or undertaking, express or implied, is given as to the accuracy or completeness of the information or opinions contained in this document by any of Algebris (UK) Limited , its members, employees or affiliates and no liability is accepted by such persons for the accuracy or completeness of any such information or opinions.
The distribution of this document may be restricted in certain jurisdictions. The above information is for general guidance only, and it is the responsibility of any person or persons in possession of this document to inform themselves of, and to observe, all applicable laws and regulations of any relevant jurisdiction. This document is for private circulation to professional investors only.
© 2023 Algebris (UK) Limited. All Rights Reserved. 4th Floor, 1 St James's Market, SW1Y 4AH.