US Data – Slowdown in sight
Last week's October CPI surprised by 0.1% to the downside at 3.2% YoY headline and 4.0% core, triggering a strong 30bps in US rates and paving the way to a soft landing. Retail sales fell from the previous months strong reading from +0.7% to -0.1% MoM but beat consensus forecasts of -0.3%. Thursday's jobless claims rose to 231k, painting a picture of a loosening labour market. Ever since the strong data in Q3, Q4 data so far has confirmed the expected slowdown. GDP Nowcast trackers are still very dispersed as we only started to collect data, ranging between -0.2% from Bloomberg's model and +2.5% from the NY Fed's model – still indicating a significant slowdown from Q3's 4.9%.
Markets – Pricing some landing
US 10Y treasury yields finished 20bps lower and below 4.5%, after having been at 5.0% just one month ago. Markets are pricing close to 100bps of cuts for both the US and the Eurozone until December 2024, reflecting a scenario similar to a soft landing. By December 2025, markets expect Fed rates at 3.8% and ECB rates at 2.6%, closer to their respective neutral rates but nowhere near easing territory. With European HY CDS index spreads below 400bps, cumulative default rates around 25% for the next 5 years look in line with a slowdown in economic activity and a rise in defaults, but by no means a crash landing.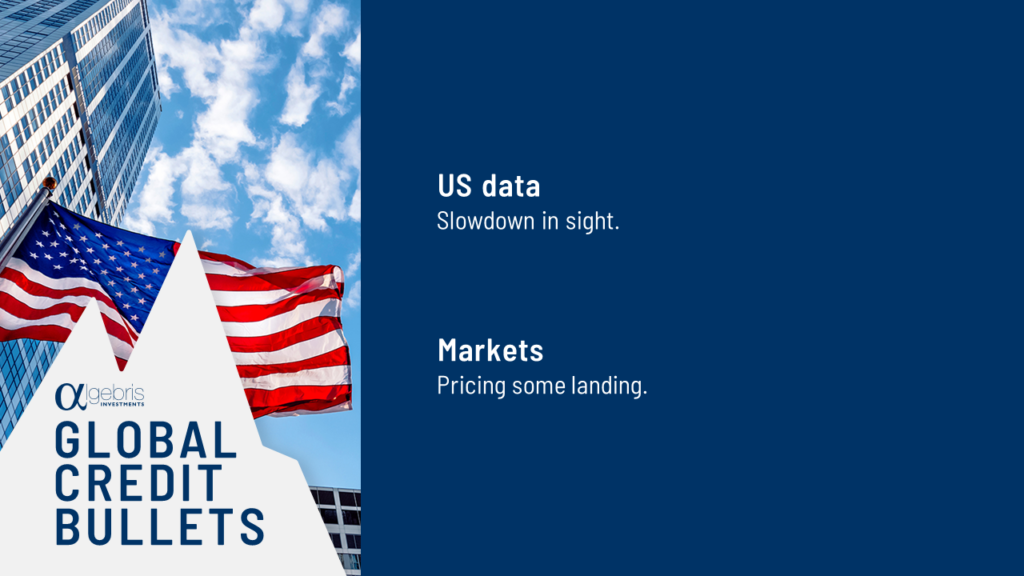 ---
Algebris Investments' Global Credit Team
This document is issued by Algebris (UK) Limited. The information contained herein may not be reproduced, distributed or published by any recipient for any purpose without the prior written consent of Algebris (UK) Limited.
Algebris (UK) Limited is authorised and Regulated in the UK by the Financial Conduct Authority. The information and opinions contained in this document are for background purposes only, do not purport to be full or complete and do not constitute investment advice. Under no circumstances should any part of this document be construed as an offering or solicitation of any offer of any fund managed by Algebris (UK) Limited. Any investment in the products referred to in this document should only be made on the basis of the relevant prospectus. This information does not constitute Investment Research, nor a Research Recommendation. Algebris (UK) Limited is not hereby arranging or agreeing to arrange any transaction in any investment whatsoever or otherwise undertaking any activity requiring authorisation under the Financial Services and Markets Act 2000.
No reliance may be placed for any purpose on the information and opinions contained in this document or their accuracy or completeness. No representation, warranty or undertaking, express or implied, is given as to the accuracy or completeness of the information or opinions contained in this document by any of Algebris (UK) Limited , its members, employees or affiliates and no liability is accepted by such persons for the accuracy or completeness of any such information or opinions.
The distribution of this document may be restricted in certain jurisdictions. The above information is for general guidance only, and it is the responsibility of any person or persons in possession of this document to inform themselves of, and to observe, all applicable laws and regulations of any relevant jurisdiction. This document is for private circulation to professional investors only.
© 2023 Algebris (UK) Limited. All Rights Reserved. 4th Floor, 1 St James's Market, SW1Y 4AH.