China – Weaker data, weaker currency
China's data is slowing, as weaker PMIs, credit data and inflation disappoint the reopening narrative for now. In addition, capital outflows continue, and investors remain hesitant to invest amid a weakening macro picture, potentially easier monetary policy and ongoing geopolitical tensions. USDCNH broke through 7.0 last week, opening the door for further CNH weakness up to 7.30 and for potential PBoC action, either through lower rates or currency interventions.
Markets – Recession is the new consensus
Investor sentiment remains bearish, as EPS growth expectations are near the lows, cash allocations remain elevated and China optimism fades, according to BofA's Global Fund Manager survey. Despite slowing, US hard data has continued to hold up well, while surveys like Empire Manufacturing or NY Fed Services Business Activity have turned more negative. In this environment, we see value in financials with healthy fundamentals, resilient corporate sectors like communications, and EM sovereign debt for economies which have room to cut rates amid high real rates.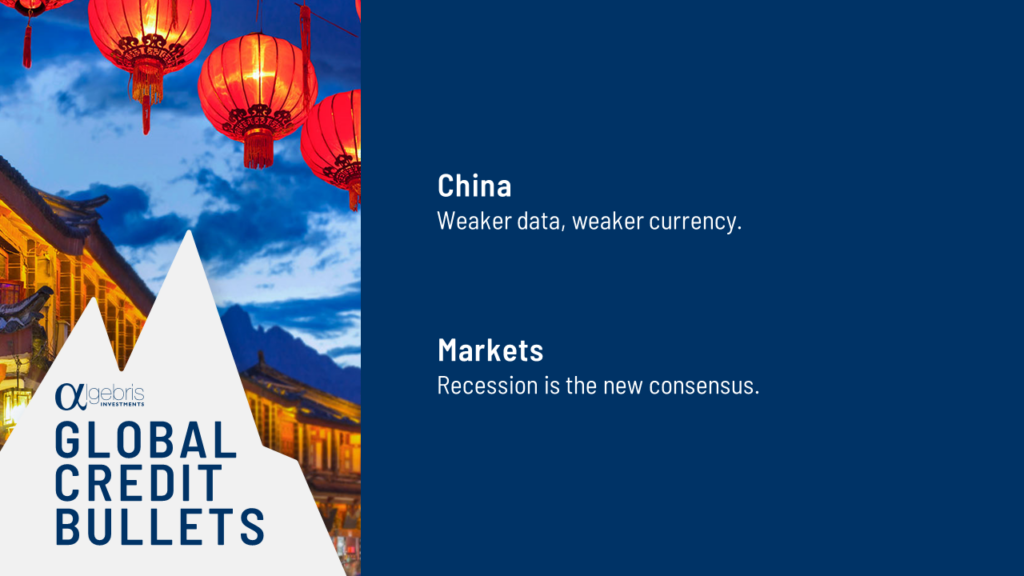 ---
Algebris Investments' Global Credit Team
This document is issued by Algebris (UK) Limited. The information contained herein may not be reproduced, distributed or published by any recipient for any purpose without the prior written consent of Algebris (UK) Limited.
Algebris (UK) Limited is authorised and Regulated in the UK by the Financial Conduct Authority. The information and opinions contained in this document are for background purposes only, do not purport to be full or complete and do not constitute investment advice. Under no circumstances should any part of this document be construed as an offering or solicitation of any offer of any fund managed by Algebris (UK) Limited. Any investment in the products referred to in this document should only be made on the basis of the relevant prospectus. This information does not constitute Investment Research, nor a Research Recommendation. Algebris (UK) Limited is not hereby arranging or agreeing to arrange any transaction in any investment whatsoever or otherwise undertaking any activity requiring authorisation under the Financial Services and Markets Act 2000.
No reliance may be placed for any purpose on the information and opinions contained in this document or their accuracy or completeness. No representation, warranty or undertaking, express or implied, is given as to the accuracy or completeness of the information or opinions contained in this document by any of Algebris (UK) Limited , its members, employees or affiliates and no liability is accepted by such persons for the accuracy or completeness of any such information or opinions.
The distribution of this document may be restricted in certain jurisdictions. The above information is for general guidance only, and it is the responsibility of any person or persons in possession of this document to inform themselves of, and to observe, all applicable laws and regulations of any relevant jurisdiction. This document is for private circulation to professional investors only.
© 2023 Algebris (UK) Limited. All Rights Reserved. 4th Floor, 1 St James's Market, SW1Y 4AH.