US – Cautious Fed means steeper curves
Last week, Powell indicated that the Fed will be on hold at the upcoming November meeting but monitor data and potentially tightening thereafter. US data was very strong recently, but in absence of Fed action the yield curve steepened, and US 30Y reaching their highest level since 2017 at 5.13%. This week's key focus will be on PMIs, home sales, durable goods orders and the Feds preferred inflation measure, PCE.
ECB Preview – Focus on the talk
Thursday's ECB meeting is unlikely to see any policy changes, including the policy rate, minimum reserve requirements (MRR) or balance sheet policy. Focus on the press conference will be around any ongoing discussions around these matters, in particular raising MRR and active balance sheet sales, or the earlier halt to PEPP reinvestments. Additionally, the ECB will need to comment on the potential risk of rising energy prices for the European inflation outlook. Furthermore, the ECB will acknowledge that rates are in restrictive territory but maintaining an open data-dependent approach into Q4. Ahead of the meeting, the market will focus on Eurozone PMIs on Tuesday, which consensus expects slightly better at 47.4 versus 47.2 prior.
Poland – Path ahead
The three opposition parties Civic Coalition, Third Way and Left party are likely to form a majority government around Donald Tusk as the new prime minister, as the incumbent PiS party will not be able to gather a majority. This is a very positive outcome for Poland, which will return on a course towards EU friendly policy again but may take some time as the PiS and President Duda will drag out the government formation procedures. Further, the new government will be constrained by a presidential veto by Duda until the next presidential election in mid-2025. Fiscal spending and borrowing are likely to stay high, which in turn can weigh on Polish bonds and requires a more hawkish central bank.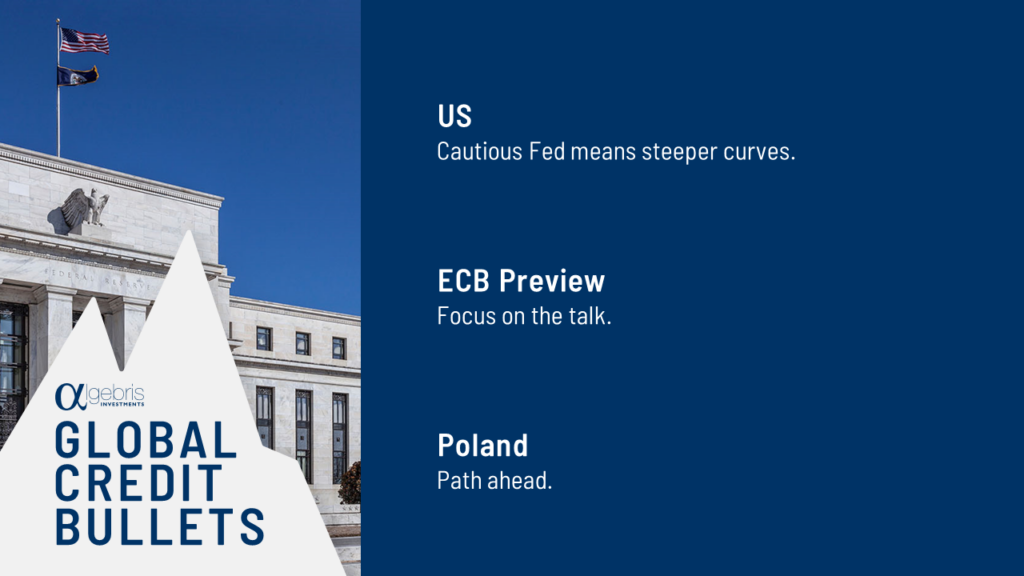 ---
Algebris Investments' Global Credit Team
This document is issued by Algebris (UK) Limited. The information contained herein may not be reproduced, distributed or published by any recipient for any purpose without the prior written consent of Algebris (UK) Limited.
Algebris (UK) Limited is authorised and Regulated in the UK by the Financial Conduct Authority. The information and opinions contained in this document are for background purposes only, do not purport to be full or complete and do not constitute investment advice. Under no circumstances should any part of this document be construed as an offering or solicitation of any offer of any fund managed by Algebris (UK) Limited. Any investment in the products referred to in this document should only be made on the basis of the relevant prospectus. This information does not constitute Investment Research, nor a Research Recommendation. Algebris (UK) Limited is not hereby arranging or agreeing to arrange any transaction in any investment whatsoever or otherwise undertaking any activity requiring authorisation under the Financial Services and Markets Act 2000.
No reliance may be placed for any purpose on the information and opinions contained in this document or their accuracy or completeness. No representation, warranty or undertaking, express or implied, is given as to the accuracy or completeness of the information or opinions contained in this document by any of Algebris (UK) Limited , its members, employees or affiliates and no liability is accepted by such persons for the accuracy or completeness of any such information or opinions.
The distribution of this document may be restricted in certain jurisdictions. The above information is for general guidance only, and it is the responsibility of any person or persons in possession of this document to inform themselves of, and to observe, all applicable laws and regulations of any relevant jurisdiction. This document is for private circulation to professional investors only.
© 2023 Algebris (UK) Limited. All Rights Reserved. 4th Floor, 1 St James's Market, SW1Y 4AH.