Fed & ECB Preview – Maintaining a tightening bias
The Fed will likely hike rates by another 25bp on Wednesday, bringing the range to 5.25 – 5.50%. The latest dot plot anticipated one more hike in addition to this one, and we expect discussions to be focussed on the length of policy lags, the strength of recent data, and the likelihood and timing of another hike. Similarly, the ECB is also likely to raise rates by 25bp, reaching a rate of 3.75%.
The minutes of the last meeting read fairly dovish stance, but hawks like Netherland's Knot have recently signalled openness regarding the need for further hikes beyond this week. Overall, both central banks are likely to maintain a tightening bias but will focus on data dependency.
Data Preview – PMIs, Bank Lending Survey and Eurozone CPI
Today we have PMIs, where especially services PMIs had recently started to weaken – and a continued weakening would be key for central banks to slow. Consensus expectations indicate a further decline in PMIs, although services are expected to remain above 50 for US, EUR and UK. On Tuesday, we see the ECB's Q2 Bank Lending Survey, providing insights into the progress of monetary policy transmission in the Eurozone through lending standards and loan demand. As for Eurozone inflation prints, starting with Germany, France and Spain, they will be available from Friday onwards. Spain's HICP already stood at 1.6%, below the ECB's 2% target last month and is expected to rise slightly to 1.9% despite an expected -0.4% MoM print. Meanwhile, Germany's HICP is likely to fall to 6.6% from 6.8%, and France should fall to 5.2% from 5.3%. Italy and the Eurozone aggregate will follow on 31st July.
UK Inflation – Down but still high
UK inflation decreased last week to 7.9% YoY, down from 8.7% and 0.3% below the survey estimate. Core inflation also fell slightly to 6.9% from 7.1%, with the significant services category finally declining from 7.4% to 7.2%. The downward surprises triggered a 30bp rally in UK rates, helped by very short rates positioning which was partially unwound. The UK remains a clear outlier in terms of inflation levels, and strong retail sales on Friday showed continued economic resilience. With the decline in inflation, the BoE now has the potential to slow the hiking pace again on 3rd August – with the market pricing in 50/50 odds for a 25bp vs 50bp move.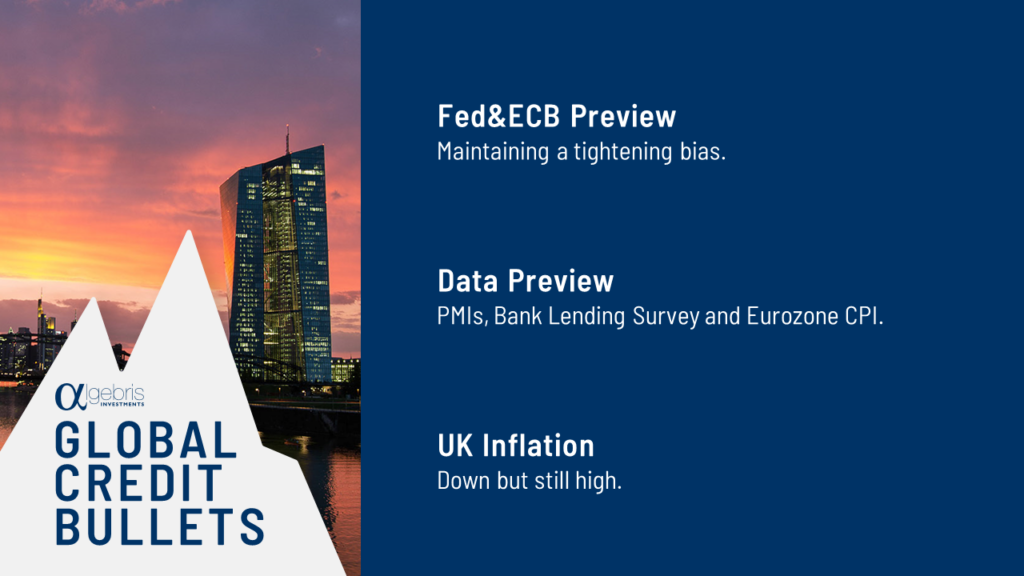 ---
Algebris Investments' Global Credit Team
This document is issued by Algebris (UK) Limited. The information contained herein may not be reproduced, distributed or published by any recipient for any purpose without the prior written consent of Algebris (UK) Limited.
Algebris (UK) Limited is authorised and Regulated in the UK by the Financial Conduct Authority. The information and opinions contained in this document are for background purposes only, do not purport to be full or complete and do not constitute investment advice. Under no circumstances should any part of this document be construed as an offering or solicitation of any offer of any fund managed by Algebris (UK) Limited. Any investment in the products referred to in this document should only be made on the basis of the relevant prospectus. This information does not constitute Investment Research, nor a Research Recommendation. Algebris (UK) Limited is not hereby arranging or agreeing to arrange any transaction in any investment whatsoever or otherwise undertaking any activity requiring authorisation under the Financial Services and Markets Act 2000.
No reliance may be placed for any purpose on the information and opinions contained in this document or their accuracy or completeness. No representation, warranty or undertaking, express or implied, is given as to the accuracy or completeness of the information or opinions contained in this document by any of Algebris (UK) Limited , its members, employees or affiliates and no liability is accepted by such persons for the accuracy or completeness of any such information or opinions.
The distribution of this document may be restricted in certain jurisdictions. The above information is for general guidance only, and it is the responsibility of any person or persons in possession of this document to inform themselves of, and to observe, all applicable laws and regulations of any relevant jurisdiction. This document is for private circulation to professional investors only.
© 2023 Algebris (UK) Limited. All Rights Reserved. 4th Floor, 1 St James's Market, SW1Y 4AH.