Europe – All eyes on Sintra (and CPI).
This week, central bankers are meeting in Sintra to discuss the inflation outlook and guide rate markets for the summer months. They'll face a tricky backdrop of conflicting economic data. The latest EZ PMI figures from Friday showed a surprising cooling in the services sector, with a decrease from 55.1 to 52.4, thus dragging the composite figure down to 50.8. This figure is only marginally above the contractionary level.
However, inflation remains sticky. Later this week, EZ headline CPI is expected to decrease from 6.1% to 5.6% YoY, while core CPI is projected to reaccelerate from 5.3% to 5.5%. Therefore, it is likely to remain uncomfortably above the target.

UK – Living in another world.
The Bank of England (BoE) accelerated its pace and hiked the bank rate by 50 bps to 5%, contrary to consensus expectations of only a 25 bps move. The action received a surprisingly large majority with a 7-2 vote and followed another strong core CPI beat at 7.1% compared to the survey's 6.8%, including core services accelerating to 7.4% YoY. The market expects the BoE to hike to a terminal rate of 6.25%, but we believe this is unlikely to be delivered.
Emerging Markets – Dovish pivot comes closer, Turkey comes to its senses.
A slew of emerging market (EM) central banks held rates this week, including Brazil and Mexico, while Turkey finally chose to pursue a more orthodox policy. Brazil's Central Bank (BCB) kept the Selic rate unchanged at 13.75% after inflation fell to 3.94% YoY in May. The BCB also eased its statement language, indicating potential rate cuts in August. Mexico's Banxico maintained rates at 11.25% after May CPI decreased to 5.84%. The "higher for longer" guidance remained unchanged. On the other side of the spectrum, Turkey's Central Bank (BRT) raised rates by 650 bps to 15% after President Erdogan changed the central bank governor. However, the hike fell short of market expectations of a 20% increase. Consequently, the Lira weakened further, falling beyond $25.

Russia – Surprise rebellion undermines Putin.
Wagner leader Prigozhin announced a surprise rebellion against Putin on Friday evening but quickly reversed course on Saturday and fled to Belarus instead. It's unclear which concessions Prigozhin and Putin agreed upon as part of the deal to retreat, brokered by Lukashenko. However, it's likely to involve a reshuffling of Russia's military leadership around Shoigu and Gerasimov. We still need to understand the repercussions, but the internal instability clearly weakens Putin and may ultimately benefit Ukraine.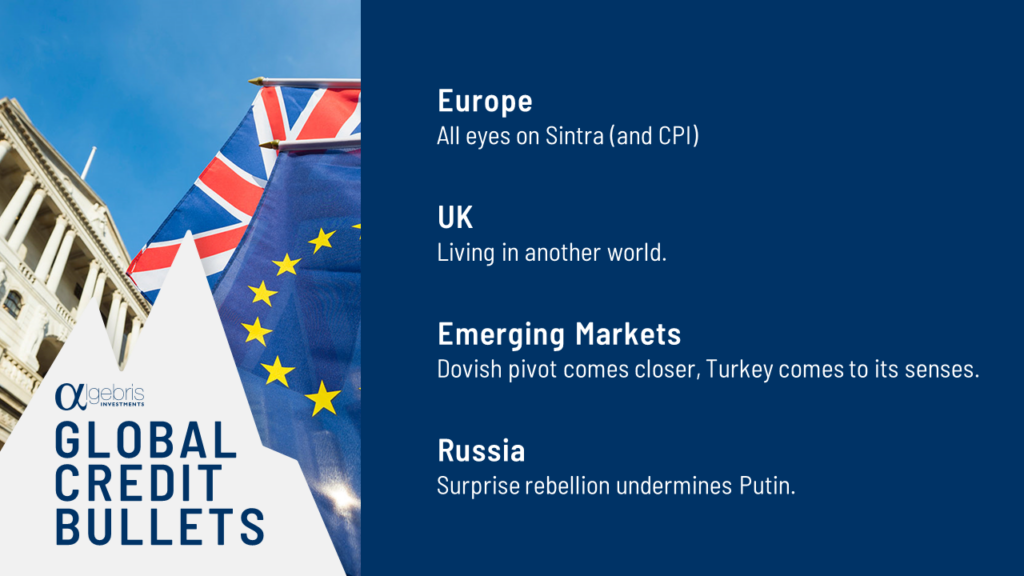 ---
Algebris Investments' Global Credit Team
This document is issued by Algebris (UK) Limited. The information contained herein may not be reproduced, distributed or published by any recipient for any purpose without the prior written consent of Algebris (UK) Limited.
Algebris (UK) Limited is authorised and Regulated in the UK by the Financial Conduct Authority. The information and opinions contained in this document are for background purposes only, do not purport to be full or complete and do not constitute investment advice. Under no circumstances should any part of this document be construed as an offering or solicitation of any offer of any fund managed by Algebris (UK) Limited. Any investment in the products referred to in this document should only be made on the basis of the relevant prospectus. This information does not constitute Investment Research, nor a Research Recommendation. Algebris (UK) Limited is not hereby arranging or agreeing to arrange any transaction in any investment whatsoever or otherwise undertaking any activity requiring authorisation under the Financial Services and Markets Act 2000.
No reliance may be placed for any purpose on the information and opinions contained in this document or their accuracy or completeness. No representation, warranty or undertaking, express or implied, is given as to the accuracy or completeness of the information or opinions contained in this document by any of Algebris (UK) Limited , its members, employees or affiliates and no liability is accepted by such persons for the accuracy or completeness of any such information or opinions.
The distribution of this document may be restricted in certain jurisdictions. The above information is for general guidance only, and it is the responsibility of any person or persons in possession of this document to inform themselves of, and to observe, all applicable laws and regulations of any relevant jurisdiction. This document is for private circulation to professional investors only.
© 2023 Algebris (UK) Limited. All Rights Reserved. 4th Floor, 1 St James's Market, SW1Y 4AH.