Jackson Hole – Balanced tone
At Jackson Hole, the tone from global central bankers was balanced. All in, the event did not serve the purpose of a big hawkish shift, as it happened in 2022 and as some observers feared. Fed Chair Powell re-affirmed the commitment to 2% inflation, and guided for higher for longer interest rates (without entering the well anticipated r star discussion – though). He remained open for further hikes if necessary, without explicitly guiding for them. ECB President Lagarde focused on longer-term challenges for growth and inflation, and pointed to restrictive policy to be held for a long time. There was no reference to the September meeting. Overall, this year meeting did not prove an important market catalyst, so both risk and rates are likely to relief in September, especially after wobbly August. We expect the Fed to remain on hold until 1Q24 and then discuss cuts. We expect the ECB to hike once more in September then follow the Fed.
Eurozone PMIs – Services take toll on growth
Leading indicators for European growth continue to moderate. In August, PMIs surprised on the downside across the board. The composite European print came in at 47, and Germany closer to 44. These levels are consistent with a mild recession in 2023, with real GDP growth in Germany likely moving below -0.5% for the year as a result. The big surprise was in services, which moved to recessionary levels (48 at European level, 47 in Germany). This marked a big shift from the previous six months, when manufacturing showed signs of difficulty but services held well. We think a slowdown in services is an important (negative) milestone in the European growth story, and likely reduces appetite for further tightening from the ECB. We expect a last hike at the September meeting but a much less hawkish attitude going into 4Q, as inflation will continue to come down and growth keeps moderating.
Back to school – Inflation data & issuance
European inflation for August will be the focus this week, with new data coming in on Wednesday. Price growth should continue hovering around 5% yoy, with core inflation in moderation. In US, the focus will be on non-farm payroll on Friday. Job growth should continue to moderate but remain at satisfactory levels. Markets will also continue to look for news on Chinese stimulus post the sudden macro deterioration in August. In credit, issuance is likely to start picking up, particularly on the investment-grade segment.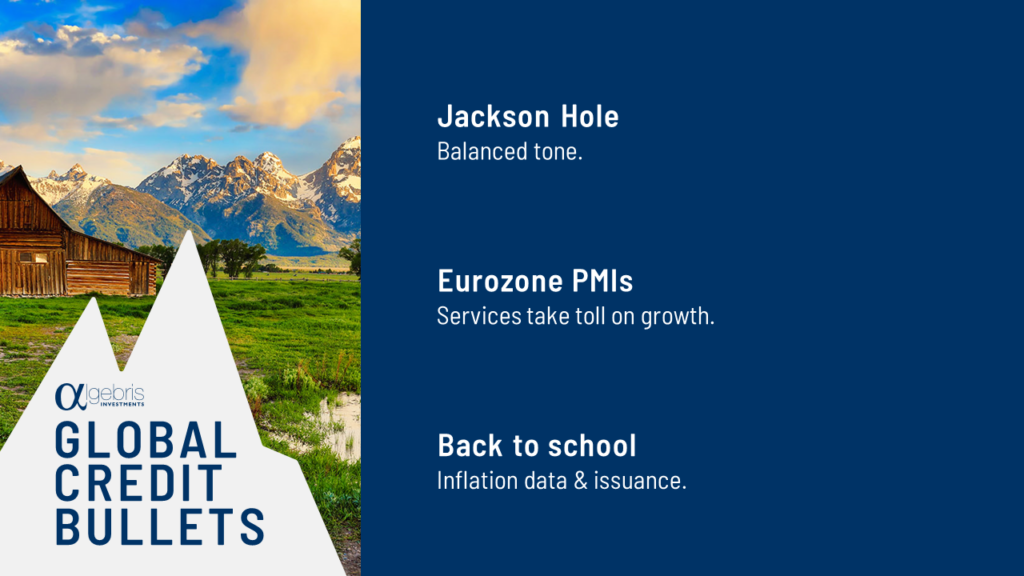 ---
Algebris Investments' Global Credit Team
This document is issued by Algebris (UK) Limited. The information contained herein may not be reproduced, distributed or published by any recipient for any purpose without the prior written consent of Algebris (UK) Limited.
Algebris (UK) Limited is authorised and Regulated in the UK by the Financial Conduct Authority. The information and opinions contained in this document are for background purposes only, do not purport to be full or complete and do not constitute investment advice. Under no circumstances should any part of this document be construed as an offering or solicitation of any offer of any fund managed by Algebris (UK) Limited. Any investment in the products referred to in this document should only be made on the basis of the relevant prospectus. This information does not constitute Investment Research, nor a Research Recommendation. Algebris (UK) Limited is not hereby arranging or agreeing to arrange any transaction in any investment whatsoever or otherwise undertaking any activity requiring authorisation under the Financial Services and Markets Act 2000.
No reliance may be placed for any purpose on the information and opinions contained in this document or their accuracy or completeness. No representation, warranty or undertaking, express or implied, is given as to the accuracy or completeness of the information or opinions contained in this document by any of Algebris (UK) Limited , its members, employees or affiliates and no liability is accepted by such persons for the accuracy or completeness of any such information or opinions.
The distribution of this document may be restricted in certain jurisdictions. The above information is for general guidance only, and it is the responsibility of any person or persons in possession of this document to inform themselves of, and to observe, all applicable laws and regulations of any relevant jurisdiction. This document is for private circulation to professional investors only.
© 2023 Algebris (UK) Limited. All Rights Reserved. 4th Floor, 1 St James's Market, SW1Y 4AH.