Euro inflation – Base effects kicking in but core still higher
Eurozone headline inflation fell to 6.9% YoY from 8.5% last month, and 20bps below consensus. The fall was driven by energy prices, which fell -2.2% MoM, and -0.9% YoY. One year after Ukraine's invasion and the resulting strong spike in oil and gas, the well anticipated base effects are now dragging energy contribution materially lower. However, underlying core inflation rose yet again, by 0.1% to 5.7% – in line with consensus. Industrial goods rose by 2.4% MoM, despite the YoY reading falling to 6.6%. Services inflation rose again to 5% YoY, up 60bps from last Month. The views among the ECB are split, with the doves pointing to quickly falling headline inflation as their main focus and mandate. The hawks draw attention to the persistently rising core inflation, and the continued strong underlying momentum across drivers. We think ECB terminal rate pricing should be in a 3.5-3.75% range, given the strength of core inflation and the resilient European banking sector, which is likely to tighten lending standards slower than their US counterpart.
Money markets – Watching flows
US Money markets continued to see inflows, with $60.1bn being added through March 29th, for a total of $508bn in the first quarter. This was the largest quarterly addition since the Covid risk-off in Q1-2020, illustrating investors fear throughout these weeks. A positive sign was the reduction of Bank borrowings from the two Fed backstop lending facilities: US banks had borrowed $152bn in the week through March 29th, down from $164bn in the before. $88bn of the borrowed money came from the Fed's traditional discount window, down from $110bn last week and a record $153bn during the peak last month. The new Bank Term Funding Program was tapped for $64bn, up from $54bn the previous week, as this type of funding remains most attractive for banks given the generous borrowing terms. The overall decline in borrowing suggests better bank liquidity, and helped markets to a sigh of relief this week.
Markets – Dust is settling
The market is taking a breather following the violent price action after SVB, Credit Suisse and the rates positioning washout in the previous weeks. European risk rallied, as the Eurostoxx50 rallied 4.3%, the Banks index rallied 6% and European HY credit spreads fell 50bps to 450bp last week. Subordinate bank spreads tightened too, falling by 33bps to 185bp in the iTraxx SubFin index. In rates markets, the flight-to-quality move reversed in parts, as German 10Y Bunds rose 14bp to 2.3% and 10y swap spreads fell by 4bp to 0.5%. We think the market will require some risk premium for longer, and hence do not believe that we revert to pre-stress levels quickly.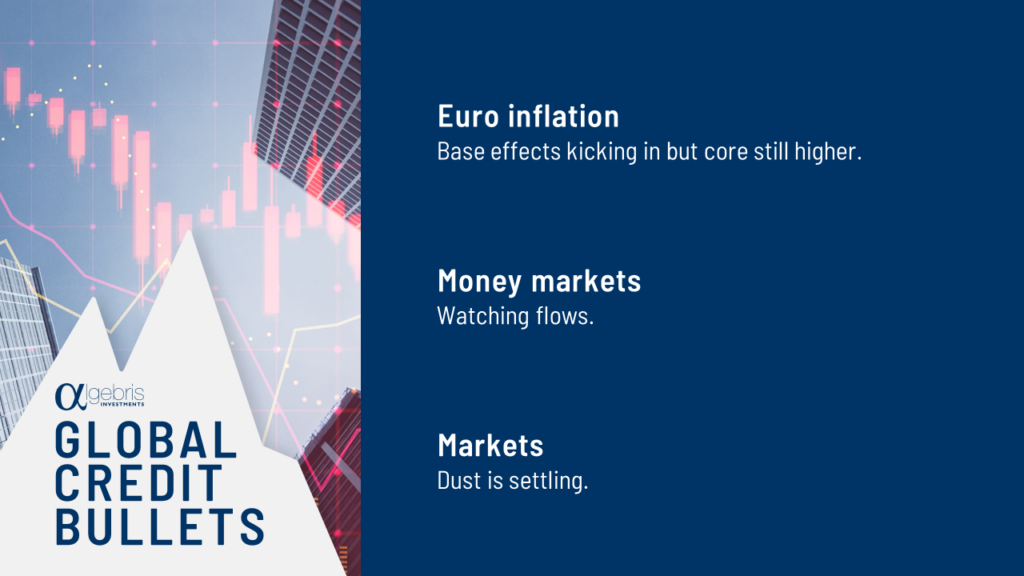 ---
Algebris Investments' Global Credit Team
This document is issued by Algebris (UK) Limited. The information contained herein may not be reproduced, distributed or published by any recipient for any purpose without the prior written consent of Algebris (UK) Limited.
Algebris (UK) Limited is authorised and Regulated in the UK by the Financial Conduct Authority. The information and opinions contained in this document are for background purposes only, do not purport to be full or complete and do not constitute investment advice. Under no circumstances should any part of this document be construed as an offering or solicitation of any offer of any fund managed by Algebris (UK) Limited. Any investment in the products referred to in this document should only be made on the basis of the relevant prospectus. This information does not constitute Investment Research, nor a Research Recommendation. Algebris (UK) Limited is not hereby arranging or agreeing to arrange any transaction in any investment whatsoever or otherwise undertaking any activity requiring authorisation under the Financial Services and Markets Act 2000.
No reliance may be placed for any purpose on the information and opinions contained in this document or their accuracy or completeness. No representation, warranty or undertaking, express or implied, is given as to the accuracy or completeness of the information or opinions contained in this document by any of Algebris (UK) Limited , its members, employees or affiliates and no liability is accepted by such persons for the accuracy or completeness of any such information or opinions.
The distribution of this document may be restricted in certain jurisdictions. The above information is for general guidance only, and it is the responsibility of any person or persons in possession of this document to inform themselves of, and to observe, all applicable laws and regulations of any relevant jurisdiction. This document is for private circulation to professional investors only.
© 2023 Algebris (UK) Limited. All Rights Reserved. 4th Floor, 1 St James's Market, SW1Y 4AH.