Central Banks – Some are taking the punch bowl away.
The Reserve Bank of New Zealand was the latest central bank to turn hawkish last week, following the other commodity-linked economies Canada, Norway and Russia earlier this year. The RBNZ unveiled its projections to hike rates in September 2022, while highlighting that QE is no solution to achieve their second mandate of sustainable, full employment.
Conversely, the FED and ECB stay dovish despite better data – or at least undecided how to proceed. ECB members Lagarde, Panetta and Schnabel said that tapering PEPP in June is premature, and that tighter financing conditions through rising government bond yields are unwelcome. Nonetheless, Schnabel's view that risk-free yields may well rise with improving economic data highlights the balancing act the ECB faces from here. Following strong European macro data past week, with PMIs at 56.9 and the ESI at 114.5 near highs, we believe tapering PEPP will be discussed over the next few months.
Similarly for the Fed, our Algebris Fed Dove-o-meter, using natural-language processing (NLP), highlights that FED-speak is too dovish, given the macro-data printing in the US:


US Fiscal – Building America again.
The Biden Administration submitted a slimmed-down version of its infrastructure package as part of an effort to compromise with congressional Republicans, bringing the overall proposed size to $1.7tn, or ~8% of GDP. The biggest cuts to the revised proposal come from reduced funding for broadband, roads and bridges. Although details around the plan are yet to be confirmed, the market consensus headline number to pass is of around $1tn, to be spent over a period of 10 years. The timeframe for the bill to pass could come as early as July and we expect discussions around the bill to intensify in June. We believe that anything substantially greater the $1tn would be seen as a surprise by the market. The bill is largely expected to be 50% deficit financed, with the remaining 50% being financed via increased tax revenues, particularly from high-net-worth individuals and large corporates. Whilst it will take several years for the effects of this plan to be seen on the real economy, we are hopeful that the long-term benefits on job creation, productivity and efficiency increases will outweigh the short-term costs.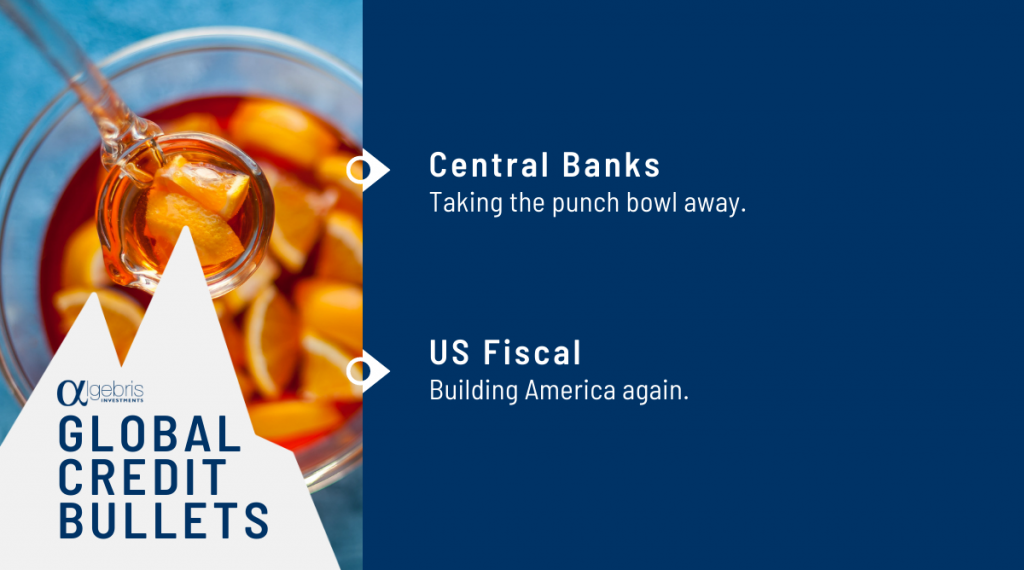 To read more on our latest views, please see our Silver Bullet | Dog Money or visit our Insights section.
This document is issued by Algebris (UK) Limited. The information contained herein may not be reproduced, distributed or published by any recipient for any purpose without the prior written consent of Algebris (UK) Limited.
Algebris (UK) Limited is authorised and Regulated in the UK by the Financial Conduct Authority. The information and opinions contained in this document are for background purposes only, do not purport to be full or complete and do not constitute investment advice. Under no circumstances should any part of this document be construed as an offering or solicitation of any offer of any fund managed by Algebris (UK) Limited. Any investment in the products referred to in this document should only be made on the basis of the relevant prospectus. This information does not constitute Investment Research, nor a Research Recommendation. Algebris (UK) Limited is not hereby arranging or agreeing to arrange any transaction in any investment whatsoever or otherwise undertaking any activity requiring authorisation under the Financial Services and Markets Act 2000.
No reliance may be placed for any purpose on the information and opinions contained in this document or their accuracy or completeness. No representation, warranty or undertaking, express or implied, is given as to the accuracy or completeness of the information or opinions contained in this document by any of Algebris (UK) Limited , its members, employees or affiliates and no liability is accepted by such persons for the accuracy or completeness of any such information or opinions.
The distribution of this document may be restricted in certain jurisdictions. The above information is for general guidance only, and it is the responsibility of any person or persons in possession of this document to inform themselves of, and to observe, all applicable laws and regulations of any relevant jurisdiction. This document is for private circulation to professional investors only.
© 2021 Algebris (UK) Limited. All Rights Reserved. 4th Floor, 1 St James's Market, SW1Y 4AH.