ECB – Next stop 4%
Last week's Eurozone CPI prints surprised to the upside and led markets to price in a 4% terminal rate for the ECB. Headline CPI YoY fell to 8.5% from 8.6% in January but bet estimates by 0.2%. Most alarming was the acceleration of core to 5.6%, up from 5.3% previously and 0.3% above expectations. While energy inflation continued to fall, both goods and services inflation rose to 6.8% and 4.8% respectively. In addition, hawkish comments by Wunsch, Vasle, Muller and Villeroy emphasised that the ECB is nowhere near slowing down. Several investment banks have now revised their terminal rate forecasts higher to 4% – roughly matching market pricing. It's clear that the ECB will deliver their "intent" to hike by 0.5% on March 16th, and we think beyond that further 0.5% increases must be expected, assuming inflation stays this high. Despite the market pricing a lot already, we continue to stay cautious on European duration.
US – Risks more balanced
After strong data in February, last week's data came on a more balanced note. Durable goods orders fell by more than expected to -4.5% YoY, the Dallas Fed manufacturing survey fell to -13.5, the MNI Chicago PMI undershot at 43.6, Conference Board consumer confidence fell by 5 points to 102.9 and the Richmond Fed manufacturing index fell to -16. ISM manufacturing and services printed in line, but prices paid surprised to the upside. We believe the bar for continued data upside surprises is higher, as economist revise their forecasts. From here, data realising in line or to the downside means the balance of risks of US duration lies to the upside (rally). However, this week features key new labour market data, including challenger job cuts, JOLTS job openings, ADP employment and most importantly Non-Farm Payrolls on Friday, which will determine if we go higher or lower, first. The next Fed meeting is on March 22nd, and the market is currently pricing a 25% chance of a reacceleration to 50bps. We think the bar of this is high, but strong labour market prints this week can accelerate the case.
Credit – Bonds at a crossroad
Global Fixed Income stands at a crossroad given the uncertainty in economic data, where active views on duration, issuers and securities are required to generate performance. It is possible for investors to find bonds with yields above inflation, but amid continued tightening monetary policy we do not recommend to compromise on quality. In duration, we stay cautious but prefer US over European duration, as we believe the Fed is further ahead in the cycle. In credit, we prefer HY over IG, but only with short durations to reduce volatility. In sectors, we like financials which offer the best risk reward amid strong fundamentals, and defensive sectors like telecommunication, who can pass on rising costs from inflation to their customers.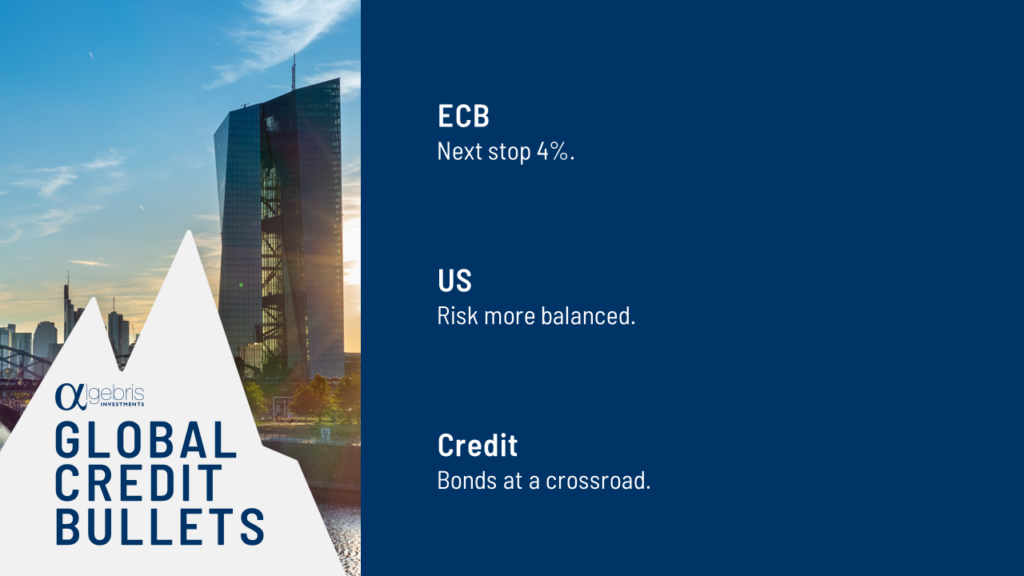 ---
Algebris Investments' Global Credit Team
This document is issued by Algebris (UK) Limited. The information contained herein may not be reproduced, distributed or published by any recipient for any purpose without the prior written consent of Algebris (UK) Limited.
Algebris (UK) Limited is authorised and Regulated in the UK by the Financial Conduct Authority. The information and opinions contained in this document are for background purposes only, do not purport to be full or complete and do not constitute investment advice. Under no circumstances should any part of this document be construed as an offering or solicitation of any offer of any fund managed by Algebris (UK) Limited. Any investment in the products referred to in this document should only be made on the basis of the relevant prospectus. This information does not constitute Investment Research, nor a Research Recommendation. Algebris (UK) Limited is not hereby arranging or agreeing to arrange any transaction in any investment whatsoever or otherwise undertaking any activity requiring authorisation under the Financial Services and Markets Act 2000.
No reliance may be placed for any purpose on the information and opinions contained in this document or their accuracy or completeness. No representation, warranty or undertaking, express or implied, is given as to the accuracy or completeness of the information or opinions contained in this document by any of Algebris (UK) Limited , its members, employees or affiliates and no liability is accepted by such persons for the accuracy or completeness of any such information or opinions.
The distribution of this document may be restricted in certain jurisdictions. The above information is for general guidance only, and it is the responsibility of any person or persons in possession of this document to inform themselves of, and to observe, all applicable laws and regulations of any relevant jurisdiction. This document is for private circulation to professional investors only.
© 2023 Algebris (UK) Limited. All Rights Reserved. 4th Floor, 1 St James's Market, SW1Y 4AH.