US Economy – From strong to weak
US data slowed last week, following a very strong Q3 GDP print at 4.9%, driven by consumer spending and inventory build-up. Non-farm payrolls came in below expectations at 150k, but other measures of labour market tightness like the quits rate at 2.3% and the job openings/unemployed ratio at 1.5x were unchanged. The ISM manufacturing and services PMIs which both came in below expectations at 46.7 and 51.8, respectively, painting a weaker growth picture for Q4 – median consensus estimates are at only 0.8%. Triggered by a less aggressive Treasury refunding announcement than feared, US 10Y yields fell by almost 50bps since Wednesday and undid a substantial number of financial conditions tightening.
Fed – Cautious signals
The Fed held rates as expected and sent a cautious signal about policy ahead. While maintaining a tightening bias, the Fed acknowledged that tighter financial conditions substitute for rate hikes and downplayed the previous projections which had still signalled one more hike this year. This notion was quickly challenged however, when US yields fell materially in the second half of the week. Without new projections, we viewed this meeting as a placeholder ahead of the more crucial December meeting but think that the Fed is nonetheless done with hiking given the expected slowdown of data into Q4.
Japan – Seeking inflation
The BoJ continued their gradual process of policy normalization as inflationary pressures continue to build. The Bank relaxed their YCC policy, by turning the 1% 10Y yield cap into a more flexible reference point, allowing JGB yields to trade with global market (up) moves and without having to defend a hard cap. By doing so, the BoJ was less forceful than markets had feared, removing downside pressure from global long end bonds for the time being. We believe the BoJ can exit negative rates towards the end of 2023 or early 2024, but that it's highly conditional on the US economy: If a US recession occurs and materially lower US yields by then, the BoJ may not need to make any changes.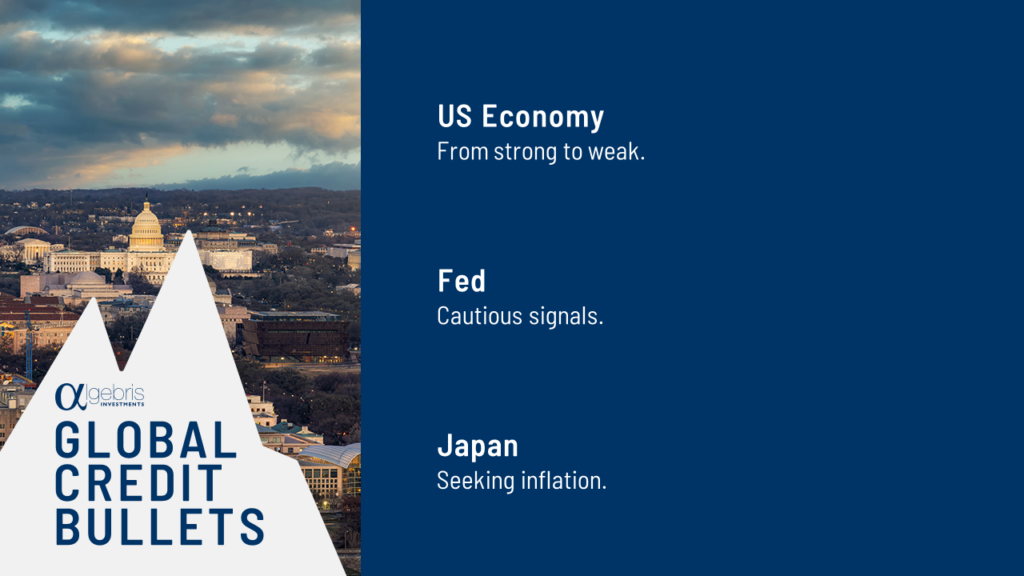 ---
Algebris Investments' Global Credit Team
This document is issued by Algebris (UK) Limited. The information contained herein may not be reproduced, distributed or published by any recipient for any purpose without the prior written consent of Algebris (UK) Limited.
Algebris (UK) Limited is authorised and Regulated in the UK by the Financial Conduct Authority. The information and opinions contained in this document are for background purposes only, do not purport to be full or complete and do not constitute investment advice. Under no circumstances should any part of this document be construed as an offering or solicitation of any offer of any fund managed by Algebris (UK) Limited. Any investment in the products referred to in this document should only be made on the basis of the relevant prospectus. This information does not constitute Investment Research, nor a Research Recommendation. Algebris (UK) Limited is not hereby arranging or agreeing to arrange any transaction in any investment whatsoever or otherwise undertaking any activity requiring authorisation under the Financial Services and Markets Act 2000.
No reliance may be placed for any purpose on the information and opinions contained in this document or their accuracy or completeness. No representation, warranty or undertaking, express or implied, is given as to the accuracy or completeness of the information or opinions contained in this document by any of Algebris (UK) Limited , its members, employees or affiliates and no liability is accepted by such persons for the accuracy or completeness of any such information or opinions.
The distribution of this document may be restricted in certain jurisdictions. The above information is for general guidance only, and it is the responsibility of any person or persons in possession of this document to inform themselves of, and to observe, all applicable laws and regulations of any relevant jurisdiction. This document is for private circulation to professional investors only.
© 2023 Algebris (UK) Limited. All Rights Reserved. 4th Floor, 1 St James's Market, SW1Y 4AH.