US Economy – Labour market remains strong
Friday's NFP print showed that 336k jobs were added in September, against a survey of just 170k. While other labour market indicators of the week showed a more balanced picture (the quits remained unchanged at 2.3% and the JOLTS ratio held steady at  1.5x, ADP jobs were weaker at 89k vs 150k survey), conditions remain too tight for the Fed to ease and so markets are now pricing 40% odds of another hike in November. However, as long end yields continue to rise, financial conditions tighten even without additional hikes. This week's CPI data will be key to watch and are expected to come at 3.6% headline YoY and 4.1% core YoY.
Markets – Higher yields hitting risk assets
Steeper US curves and the 30y yield breaking 5% are impacting risk assets, as risky/risk-free correlations are flipping from negative to positive. Equities fell 1-2% during the week, and European HY credit spreads widened almost 40bps. Sovereign spreads also continued to widen, with Bund-BTP breaking 200bps despite strong demand for new retail issuance. We think the economy is likely to slow into Q4 unless there is a substantial rebound from China.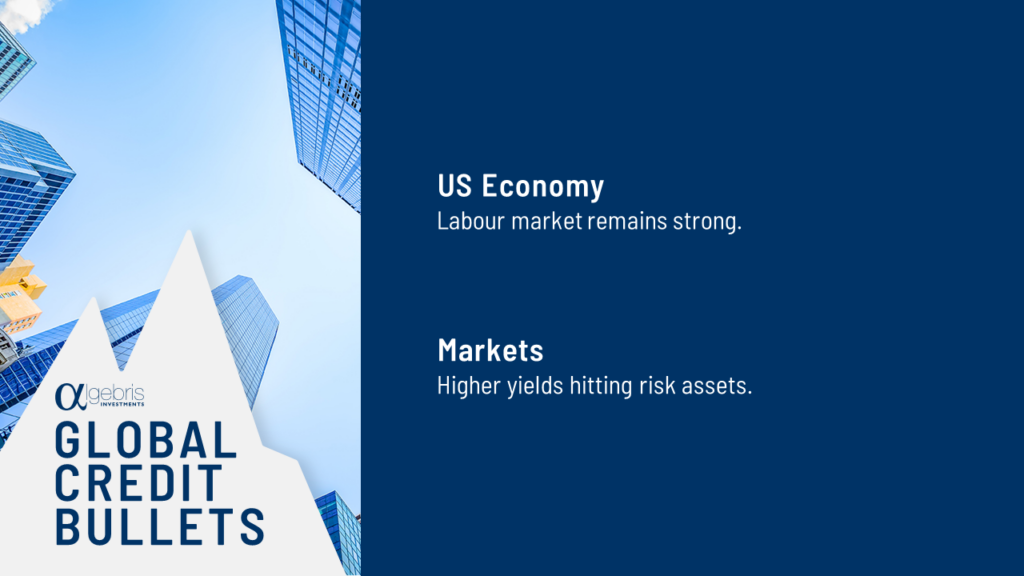 ---
Algebris Investments' Global Credit Team
This document is issued by Algebris (UK) Limited. The information contained herein may not be reproduced, distributed or published by any recipient for any purpose without the prior written consent of Algebris (UK) Limited.
Algebris (UK) Limited is authorised and Regulated in the UK by the Financial Conduct Authority. The information and opinions contained in this document are for background purposes only, do not purport to be full or complete and do not constitute investment advice. Under no circumstances should any part of this document be construed as an offering or solicitation of any offer of any fund managed by Algebris (UK) Limited. Any investment in the products referred to in this document should only be made on the basis of the relevant prospectus. This information does not constitute Investment Research, nor a Research Recommendation. Algebris (UK) Limited is not hereby arranging or agreeing to arrange any transaction in any investment whatsoever or otherwise undertaking any activity requiring authorisation under the Financial Services and Markets Act 2000.
No reliance may be placed for any purpose on the information and opinions contained in this document or their accuracy or completeness. No representation, warranty or undertaking, express or implied, is given as to the accuracy or completeness of the information or opinions contained in this document by any of Algebris (UK) Limited , its members, employees or affiliates and no liability is accepted by such persons for the accuracy or completeness of any such information or opinions.
The distribution of this document may be restricted in certain jurisdictions. The above information is for general guidance only, and it is the responsibility of any person or persons in possession of this document to inform themselves of, and to observe, all applicable laws and regulations of any relevant jurisdiction. This document is for private circulation to professional investors only.
© 2023 Algebris (UK) Limited. All Rights Reserved. 4th Floor, 1 St James's Market, SW1Y 4AH.