US Data – Leading the way up
The US economy continues to defy gravity and once again surprised last week with a QoQ GDP data of 2%, surpassing the expected 1.4% survey. This performance was supported by orders for durable goods, strong home sales, high consumer confidence, increased personal consumption, and a decrease in jobless claims. US 2Y yields took the lead in the rates market this week, and the front-end now prices 35bps of additional tightening to a terminal rate of 5.45%. Powell reaffirmed in Sintra that the Federal Reserve's base case includes two more rate hikes, according to the latest dot-plot. However, we believe it is increasingly advantageous to extend duration into the second half of the year.
This week, our focus will be on labour market data, including JOLTS job openings on Thursday and NFP on Friday.
Eurozone – Inflation stays sticky
Eurozone inflation declined from 6.1% to 5.5% last week, while core inflation accelerated slightly from 5.3% to 5.4% YoY, falling short of the anticipated 5.5% level and the associated concerns. Lagarde, during the ECB's conference in Sintra, had presented a somewhat hawkish outlook, hinting at persistent inflation and more rate hikes. However, ECB sources on Friday stated that a September rate hike is not yet set in stone, despite market expectations of a 17bps increase. The growth outlook is increasingly influential in the ongoing debate and provides room for duration to rally over the summer, as economic sentiment continued to weaken further last week across services, industry, construction and retail.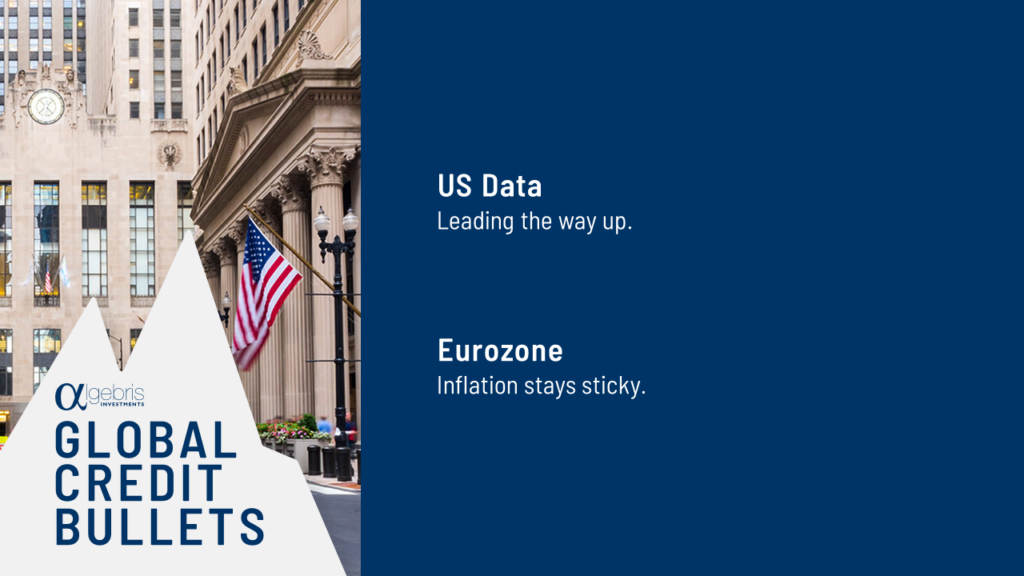 ---
Algebris Investments' Global Credit Team
This document is issued by Algebris (UK) Limited. The information contained herein may not be reproduced, distributed or published by any recipient for any purpose without the prior written consent of Algebris (UK) Limited.
Algebris (UK) Limited is authorised and Regulated in the UK by the Financial Conduct Authority. The information and opinions contained in this document are for background purposes only, do not purport to be full or complete and do not constitute investment advice. Under no circumstances should any part of this document be construed as an offering or solicitation of any offer of any fund managed by Algebris (UK) Limited. Any investment in the products referred to in this document should only be made on the basis of the relevant prospectus. This information does not constitute Investment Research, nor a Research Recommendation. Algebris (UK) Limited is not hereby arranging or agreeing to arrange any transaction in any investment whatsoever or otherwise undertaking any activity requiring authorisation under the Financial Services and Markets Act 2000.
No reliance may be placed for any purpose on the information and opinions contained in this document or their accuracy or completeness. No representation, warranty or undertaking, express or implied, is given as to the accuracy or completeness of the information or opinions contained in this document by any of Algebris (UK) Limited , its members, employees or affiliates and no liability is accepted by such persons for the accuracy or completeness of any such information or opinions.
The distribution of this document may be restricted in certain jurisdictions. The above information is for general guidance only, and it is the responsibility of any person or persons in possession of this document to inform themselves of, and to observe, all applicable laws and regulations of any relevant jurisdiction. This document is for private circulation to professional investors only.
© 2023 Algebris (UK) Limited. All Rights Reserved. 4th Floor, 1 St James's Market, SW1Y 4AH.