ECB – Dovish Bark Doesn't Bite.
The ECB Governing Council struck a relatively dovish tone last week as they communicated their intention to 'significantly' increase the pace of PEPP purchases in response to the recent bond market sell-off. However, there was no reference to increasing the size of the program and the ECB confined itself to a once-a-quarter adjustment to the pace of PEPP, giving itself less flexibility. Further, the governing council seem split as to how they will react should yields and spreads continue to widen. In short, the ECB delivered a weak message: step up the pace of purchases now, reassess in three months as function of the outlook. Overall, we think the ECB's reaction function is still unclear, and the lack of clarity means it will be harder to lean against rising yields.
Credit flows – Time to open parachutes?
Flows pose an additional risk to credit. As Treasuries move wider, chances of outflows increase. Since the beginning of 2021, roughly half of all trading days saw net outflows in $ IG and HY credit ETFs, while $ EM saw outflows for a quarter of all days. As seen in the past, for example in 2018, outflows can occur suddenly, and aren't particularly price sensitive. The worst single day of outflows year-to-date eroded almost one fifth of 2020's full-year inflows for $ HY and EM, and 6% for $ IG. There remain plenty of inflows investors can withdraw into the bear-market, as cumulative inflows into the three ETFs were $45bn over the past five years. With tight credit valuations and potential further outflows ahead, we continue to hedge against downside in LQD, HYG and EMB.
Positioning – Adding to downside hedges.
With 10Y UST's breaching 1.6%, we believe that risk assets have more downside. The moves down are led by US assets, where IG credit has twice the duration of the European benchmark and sold off ca. 5.5% YtD. To us, the market looks similar to 2018, where investors were long cash bonds, but lost money because hedges in derivatives didn't work. The difference now, however, is that strong growth ahead offers opportunities in value equities and commodities, led by the reopening of the economy. In addition to our existing hedges and high cash levels, we look to add to idiosyncratic shorts in cash bonds with longer duration, low coupons and which are trading around par. In short, we look to short bonds which are pricing perfection, but which are in fact vulnerable. We also, add more protection in US cash credit ETFs, which match the actual bond selloff. Separately, we maintain upside in sectors linked to the economic reopening and reflation, through convertible debt and equity index options in financials, energy and travel.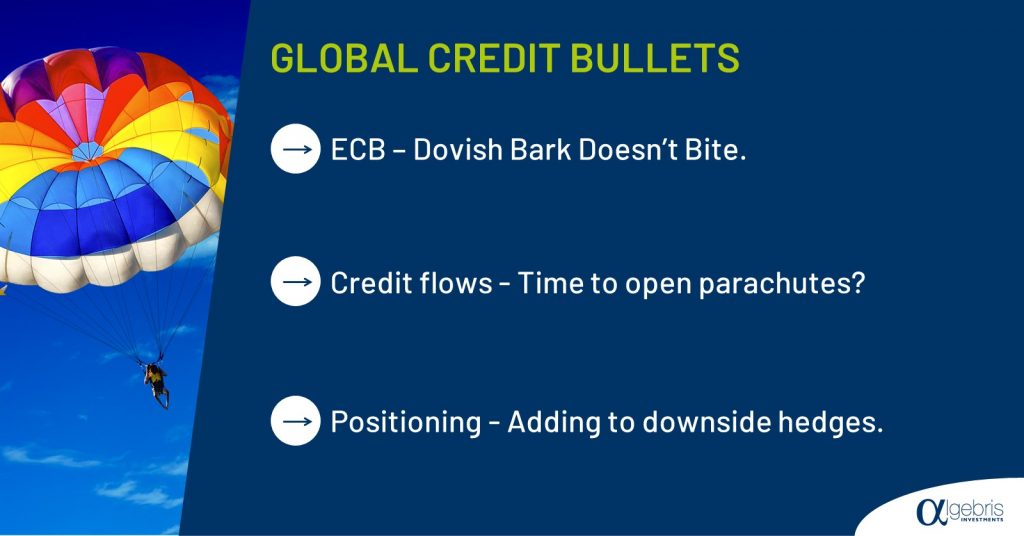 To read more on our latest views, please see our Silver Bullet | Brave New World or visit our Insights section.
This document is issued by Algebris (UK) Limited. The information contained herein may not be reproduced, distributed or published by any recipient for any purpose without the prior written consent of Algebris (UK) Limited.
Algebris (UK) Limited is authorised and Regulated in the UK by the Financial Conduct Authority. The information and opinions contained in this document are for background purposes only, do not purport to be full or complete and do not constitute investment advice. Under no circumstances should any part of this document be construed as an offering or solicitation of any offer of any fund managed by Algebris (UK) Limited. Any investment in the products referred to in this document should only be made on the basis of the relevant prospectus. This information does not constitute Investment Research, nor a Research Recommendation. Algebris (UK) Limited is not hereby arranging or agreeing to arrange any transaction in any investment whatsoever or otherwise undertaking any activity requiring authorisation under the Financial Services and Markets Act 2000.
No reliance may be placed for any purpose on the information and opinions contained in this document or their accuracy or completeness. No representation, warranty or undertaking, express or implied, is given as to the accuracy or completeness of the information or opinions contained in this document by any of Algebris (UK) Limited , its members, employees or affiliates and no liability is accepted by such persons for the accuracy or completeness of any such information or opinions.
The distribution of this document may be restricted in certain jurisdictions. The above information is for general guidance only, and it is the responsibility of any person or persons in possession of this document to inform themselves of, and to observe, all applicable laws and regulations of any relevant jurisdiction. This document is for private circulation to professional investors only.
© 2021 Algebris (UK) Limited. All Rights Reserved. 4th Floor, 1 St James's Market, SW1Y 4AH.