Ukraine – Tensions vs diplomacy.
Tensions continue to increase in Eastern Ukraine. Over the weekend, multiple ceasefire violations have been recorded in the Donbas area, and civilians from the region have started evacuating towards Russia. The Kremlin has responded by delaying the retirement of troops from Belarus, effectively leaving a situation of heightened tensions at the border. The Council of the Federation will convene on Tuesday to decide how to react to weekend tensions. At this point, an annexation/occupation of part of Eastern Ukraine is a distinct possibility. Recent tensions in the region may be a trigger for Russian intervention, and the Kremlin would give a signal to the West given the lack of consensus on security arrangement in the region. At the same time, Western Europeans are stepping up efforts for a diplomatic solution. On Thursday, Russian and US foreign ministers will meet again. Putin and Macron met on Sunday, and the US is proposing a meeting between Putin and Biden. Overall, the situation remains very fluid and has arguably reached the highest tension moment since November (so far). A partial occupation of Eastern Ukraine, triggering some sanctions towards Russia (though not the worst ones), now seems the most likely scenario.
Tension in the East – Ultimately inflationary.
The main market impact of recent Ukraine tensions turning into a proper war will take place toward commodity prices. A worst case scenario would force US and Europe to impose strong sanctions on Russia, further squeezing commodity supply. The ultimate impact would be an additional spike in the price of natural gas and oil. In US and Europe, a further 20% increase in prices may add roughly 1pp to inflation. Energy inflation would hurt consumers expectations and spending, especially in Europe. A conflict would thus mean more volatility in European equity and credit, as markets assess higher commodity prices and reduced imports from Russia. US and China are likely to be hit less, as the former does not import anything from Russia and exports to the latter won't be affected. Rates have been rallying on heightened tensions, amid risk-off. Still, inflation is likely to go up and global central banks are unlikely to alter their reaction function, especially the Fed. As such, the ultimate impact on curves will be wider, not tighter. This is particularly true in Europe where the re-pricing of inflation has more room to go.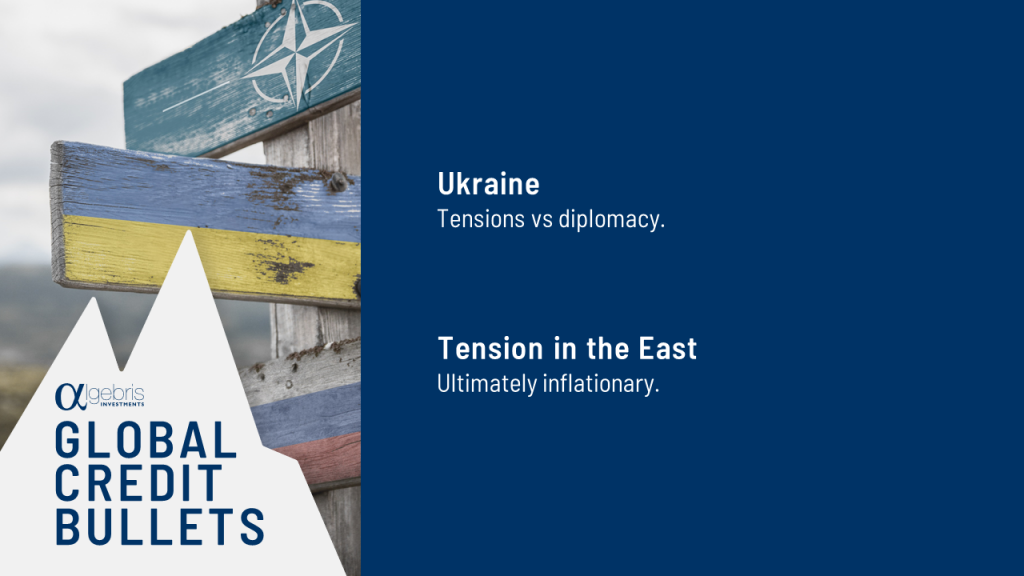 ---
Alberto Gallo – Portfolio Manager Global Credit Opportunities Fund
Gabriele Foà – Portfolio Manager Global Credit Opportunities Fund
This document is issued by Algebris (UK) Limited. The information contained herein may not be reproduced, distributed or published by any recipient for any purpose without the prior written consent of Algebris (UK) Limited.
Algebris (UK) Limited is authorised and Regulated in the UK by the Financial Conduct Authority. The information and opinions contained in this document are for background purposes only, do not purport to be full or complete and do not constitute investment advice. Under no circumstances should any part of this document be construed as an offering or solicitation of any offer of any fund managed by Algebris (UK) Limited. Any investment in the products referred to in this document should only be made on the basis of the relevant prospectus. This information does not constitute Investment Research, nor a Research Recommendation. Algebris (UK) Limited is not hereby arranging or agreeing to arrange any transaction in any investment whatsoever or otherwise undertaking any activity requiring authorisation under the Financial Services and Markets Act 2000.
No reliance may be placed for any purpose on the information and opinions contained in this document or their accuracy or completeness. No representation, warranty or undertaking, express or implied, is given as to the accuracy or completeness of the information or opinions contained in this document by any of Algebris (UK) Limited , its members, employees or affiliates and no liability is accepted by such persons for the accuracy or completeness of any such information or opinions.
The distribution of this document may be restricted in certain jurisdictions. The above information is for general guidance only, and it is the responsibility of any person or persons in possession of this document to inform themselves of, and to observe, all applicable laws and regulations of any relevant jurisdiction. This document is for private circulation to professional investors only.
© 2022 Algebris (UK) Limited. All Rights Reserved. 4th Floor, 1 St James's Market, SW1Y 4AH.