First Republic – A solution, at last
Over the weekend, JP Morgan won an auction, coordinated by the FDIC, to take over most assets and liabilities of First Republic. The bank is buying roughly $185bn of assets, post write-downs. On the liabilities side, 100% of the $90bn of deposits will be taken over by JPM, including the uninsured portion and the $30bn recently provided by large US banks in lifeline support. Common equity and bonds will be wiped out. JPM will receive 80% loss coverage on commercial loans for 5 years, and on residential loans for 7 years. Moreover, the bank will receive $50bn in five-year financing from the FDIC. Overall, we see the outcome of FRC as the most market friendly solution among the options on the table as of Friday. Depositors are made whole, and the assets are transferred to a large bank. The backstop to deposits should support stability in the system, meaning lending will continue to slow but banking stress is unlikely to extend.
Fed Preview – Last hike to end the cycle
On Wednesday we expect the Fed to deliver its last hike of this cycle: 25bp for a terminal rate range of 5-5.25%. Last week's data showed a mixed picture, with weaker GDP growth but continued persistent inflation and wages in the PCE and ECI prints. Focus will be on the Feds banking sector update and guidance beyond the meeting, as the recent dot plot projects no cuts this year.
ECB Preview – No 50 but more 25s
We expect the ECB to deliver a 25bp hike to 3.25% on Thursday. Last Friday's inflation data from Germany, France and Spain was not strong enough to warrant another 50bp hike, but we still believe the ECB has material ground to cover. Persistent wage growth and steadily high core inflation in the 5.5-5.7% range well into the summer will force the ECB to hike towards market expectations of 3.75%.
BoJ Review – Nothing for now
Governor Ueda disappointed markets at his inaugural meeting, leaving policy unchanged but announcing a policy review for the next 1-1.5y. Reference to Covid and rates guidance was dropped in the statement, and inflation forecasts were raised but still below 2%. Despite the announced review, Ueda didn't rule out policy changes to happen sooner – and we think continued strong inflation as demonstrated by Friday's Tokyo CPI will force the BoJ's hand this summer.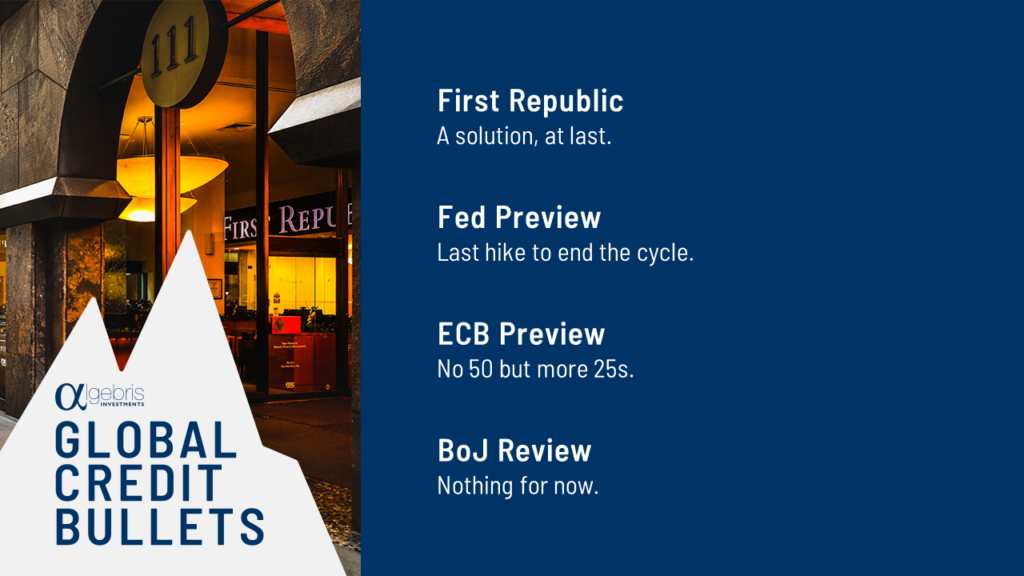 ---
Algebris Investments' Global Credit Team
This document is issued by Algebris (UK) Limited. The information contained herein may not be reproduced, distributed or published by any recipient for any purpose without the prior written consent of Algebris (UK) Limited.
Algebris (UK) Limited is authorised and Regulated in the UK by the Financial Conduct Authority. The information and opinions contained in this document are for background purposes only, do not purport to be full or complete and do not constitute investment advice. Under no circumstances should any part of this document be construed as an offering or solicitation of any offer of any fund managed by Algebris (UK) Limited. Any investment in the products referred to in this document should only be made on the basis of the relevant prospectus. This information does not constitute Investment Research, nor a Research Recommendation. Algebris (UK) Limited is not hereby arranging or agreeing to arrange any transaction in any investment whatsoever or otherwise undertaking any activity requiring authorisation under the Financial Services and Markets Act 2000.
No reliance may be placed for any purpose on the information and opinions contained in this document or their accuracy or completeness. No representation, warranty or undertaking, express or implied, is given as to the accuracy or completeness of the information or opinions contained in this document by any of Algebris (UK) Limited , its members, employees or affiliates and no liability is accepted by such persons for the accuracy or completeness of any such information or opinions.
The distribution of this document may be restricted in certain jurisdictions. The above information is for general guidance only, and it is the responsibility of any person or persons in possession of this document to inform themselves of, and to observe, all applicable laws and regulations of any relevant jurisdiction. This document is for private circulation to professional investors only.
© 2023 Algebris (UK) Limited. All Rights Reserved. 4th Floor, 1 St James's Market, SW1Y 4AH.